Welcome to Scouts Queensland
Congratulations your child now joins more than 40 million young people from all over the world who enjoy fun, friendship and the new adventures that only Scouting can provide!
"Both my children love every moment that they spend at Scouts & Cubs. It was the best decision we ever made getting them into the Scouts, they've learnt & experienced so much & have made some wonderful friends"
Loren
Parent
Download your Parent Welcome Pack here: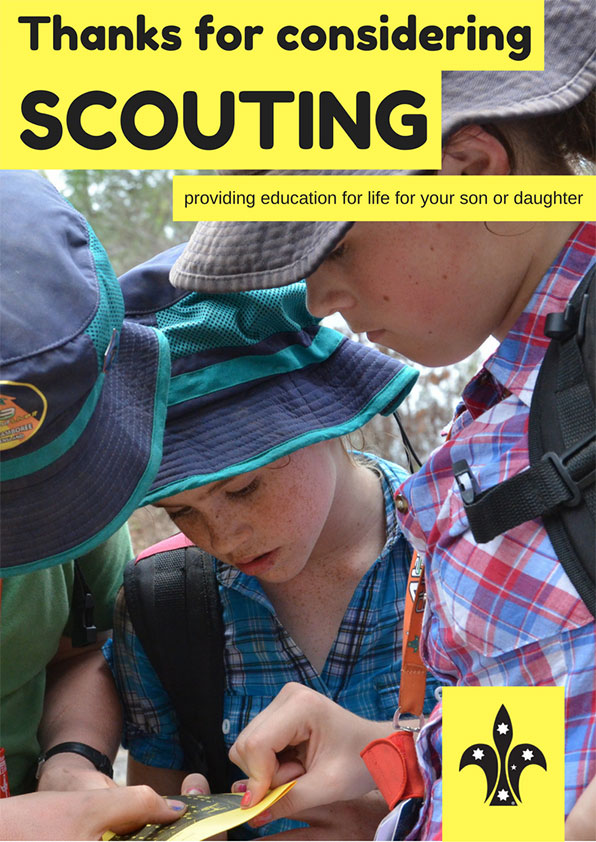 Parent Welcome Pack – FINALreduced
Scouting prepares young people for life.
The purpose of Scouting is to encourage the physical, intellectual, emotional, social and spiritual development of young people so that they take a constructive place in society as responsible citizens, and as a member of their local, national and international communities. This is done though ADVENTURE, OUTDOORS, CHALLENGE, SERVICE, GAMES, ACTION, FUN, HIKES, CAMPS, PRAYER and FRIENDS at a level appropriate to each young member.
Joey Scouts – aged 6 & 7

– Life as a Joey Scout is full of discovery and excitement

Cub Scouts – aged 8, 9, & 10

– Become a fearless adventurer as a Cub Scouts

Scouts – aged 11, 12, 13 & 14

– Learn life-long skills and become passionate about the outdoors as a Scout
Venturer Scouts – aged 15, 16 & 17

 – As a Venturer Scout it's all about the new challenges and continuous team building

Rover Scouts – aged 18 – 25

– Rover Scouts are a group of mates who believe in experiencing life to its fullest

Adult Leaders – aged 18+

– Have the power to create better citizens today and inspire leaders of tomorrow
History
Scouting has been around for a long time. In 1907 Robert Baden-Powell ran the first experimental Scout camp at Brownsea Island off the South Coast of England, followed in 1908 with a camp at Humshaugh. This is considered the beginning of Scouting. The following year his book Scouting for Boys was published and proved a great success. Scout Troops sprang up around Britain and by 1922 a world Scouting organisation had been established. Scouting has been operating in Queensland since August 1908, when four young men started a Patrol of Scouts. Throughout the years Scouting has become the world's largest youth organisation, with 60 million Scouts in 164 countries worldwide. Each Scout becomes a member of a worldwide family spread over many languages, faiths and races. Baden-Powell insisted that education should be fun and this idea is the basis of the Scouting Movement. His system allows youth members to learn how to improve themselves and help society, while having fun and making friends.
I want my Child to join Scouts so how much does it cost?
Uniform
The shirt, belt, scarf and woggle form the unform (a sunsafe hat is required for daytime) It's approx $60-$80 depending on your Section and style of shirt but isn't required initially Visit our Scout Shop
How does my child join Scouts?
Use the Group locator to find your local Scout Group – Group locator
Contact Scouts QLD to find your local volunteer Group Leader
Go for a visit with your child to see what the Scouts do – (just wear comfortable play clothes and covered shoes)
Your Group Leader will provide information about the Group as well as the registration form
Fill in the form to join up and watch your child grow and learn with each exciting Scouting adventure
Will my child go on camps?
Groups hold many different activities, sleepovers and camps throughout the year
The program is specifically designed to develop each youth member and activities are aged based
Scout Groups run their programs around the school terms
Can I get involved without becoming a Leader?
Groups welcome Leaders and other helpers and sometimes Sections require parent helpers on random occasions
Chat to your Group Leader – they will be happy to chat about the different roles that are needed to keep the Group active
Are the Leaders qualified?
Scouts Queensland is committed to providing quality programs and all Leaders undertake a Basic and Advanced training course as part of the National Training program
All Adult Members must complete mandatory Child Protection and WH & S modules
I missed the sign on day can I still join?
Scouts runs all year and you can join anytime
Groups tend to use the state school terms and break for holidays throughout the year accordingly
What if we try Scouts and it's not for us?
Scouts Qld has a six week cooling off period after the full membership has been paid – If the new member decides to withdraw within six weeks of joining, Branch Support Office will credit/refund the money paid provided a written request for a refund is received within the next four weeks.
Most investitures into the Group don't happen until the six week period so uniforms are not needed to be purchased until this time as well
Be Prepared for New Adventure
Program and Leaders
Youth Members have the option of deciding what they want to learn and how fast they learn it, have goals to work towards and obtain recognition and rewards for their efforts. The development of the leadership skills of your child is astounding. The youth program is delivered through one of the 240+ Scout Groups throughout Qld by trained Leaders. "Last weekend I attended my first weekend training session at BP Park. I had an awesome time, met great enthusiastic people and learnt so much. I feel so excited to be part of Scouting and cannot wait to continue my journey." (Sarah) All adult Leaders, helpers and Scout Group Executive Committee members are 100% volunteers. Their service to your child is invaluable. Each Scout Group has a Group Leader who is the volunteer responsible for organising and delivering Scouting and lead the team of Section Leaders. It should be said that leadership in Scouting develops your own personal skills, abilities and confidence… SO… why not give it a go and see if it suits you.
Uniforms
When your child is ready (after approx. 4-6 weeks) they will be asked if they want to join and make the Scout promise. This is the time that your child will wear their uniform, it's a big moment in any Scout's life and you will want to be there – to take loads of photos.
Expectations
We are committed to ensuring that the safety, welfare and wellbeing of our young people and adults at all times during their participation in activities. Our youth members and adults should enjoy the Scout program in the safest and most positive environment possible. Scouts Queensland will take every practicable step to ensure that all members feel safe within a setting of mutual respect. We expect that you will: • help, whenever possible, on all fundraising activities • help on working bees (2-3 times a year) • help the Leaders during the year on meeting nights and on camps and outings when called upon • help with transport to camps and outings • pay your fees on time
"My Son has thrived since joining Cubs 2yrs ago. He has moved dens once and was welcomed at his new den very enthusiastically. He was able to participate in Cuboree 2016 and had the time of his life even getting to see some of his old den friends at Cuboree. He is transitioning to Scouts now and we look forward to his next adventures with Scouts in the New Year. Thank you Scouts Qld for the wonderful job you all do."
Michelle
Parent & Scouts Supporter