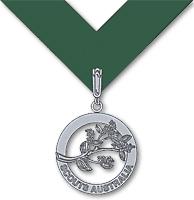 Adult Recognition Awards for especially good service to the Association are made to persons who have given especially valuable service over a considerable period.
Awards are granted for good service beyond the level of service normally expected of a person in carrying out the responsibilities of the appointment or position held as well as carrying out those duties to a high standard.
A distinctive pin for wearing in civilian dress is issued together with the first Award presented. This is a silver lapel badge based on the national logo.
Congratulations to the 2019 ARA Recipients
Previous years