Tales from Our Heritage:
Memories of our Founder's Visit to Queensland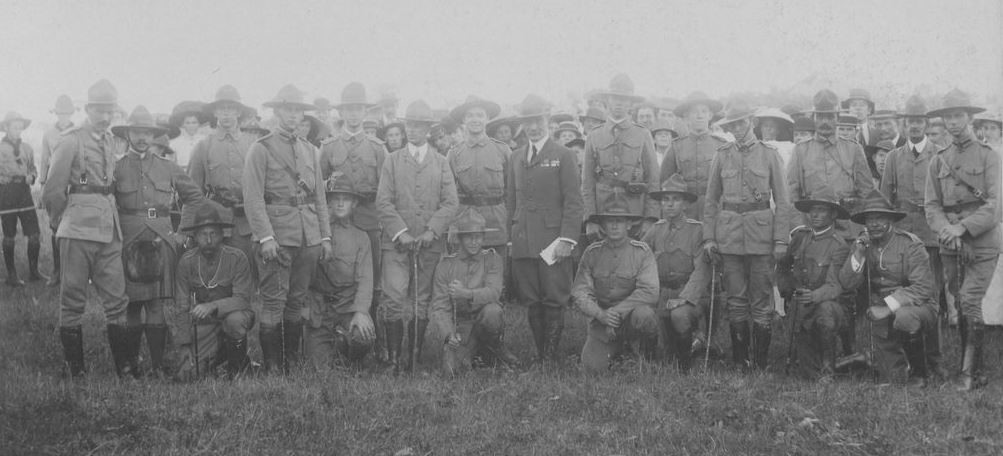 Lord Robert Baden-Powell with Leaders at Toowong during his visit in 1912.
Lord Robert Baden-Powell made three visits to Queensland in 1912, 1931 and 1934.  On his first visit during a weekend in May 1912, after landing from the ship 'Prinz Waldeman' at the Short Street Wharf, he was taken to the Old Rifle Range, Toowong (later named Anzac Park) to be welcomed by a large gathering of Scouts and the general public.  When he arrived only the official party were present, however at a signal from a bugle blast by Boodge Fogarty, over a thousand boys who had gathered out of sight suddenly appeared from all directions.  Scouts and Cubs rushed in yelling a greeting at the top of their voices.  Our own Chief Scoutmaster, Charles Snow, was in charge of this rally and many Scouts from the city and country, including Ipswich, Mt. Morgan, Warwick, Gympie, Rockhampton, Maryborough and Sandgate, had come to welcome B.-P.
A number of Troops were camped at Merthyr over the weekend which B.-P. visited and was going to present the King's Own Flag to the initial competition winners, the 1st Gympie Troop.  However due to the late arrival of the flag, B.-P. presented a substitute and the genuine flag was presented to the Gympie Troop in June 1912.  A replica of the flag is on display in the Gympie Scouting Hall of Memories Museum.
At the end of his Brisbane visit, Chief Charles Snow accompanied B.-P. to Wallangarra by train where upon departing B.-P. presented Chief Show with the Medal of Merit (the highest award for Leaders at the time).
The second visit was made in 1931 and B.-P. was accompanied by Lady B.-P.  There was a rush in by 3.000 Cubs, Scouts, Guides and Brownies at the Brisbane Exhibition Grounds. During their stay B.-P. also visited Eprapah Campsite where 300 Scout and Guide Leaders, Rovers and Rangers assembled, and it was here that B.-P.'s footprint was made in concrete.  This is now on display in the Heritage Centre, Baden-Powell Park, Samford.  On that occasion, after a pit roast dinner B.-P. gave one of his campfire yarns.
B.-P. and Lady B.-P. made a third and short visit to Queensland on 20 December 1934, on their way to the first Australian Jamboree at Frankston, Victoria. On this occasion after a reception in Anzac Square by the State Chief Scout, His Excellency Sir Leslie Orme Wilson, B.-P. walked amongst and talked to the Cubs, Scouts, Brownies, Guides and Leaders who had attended.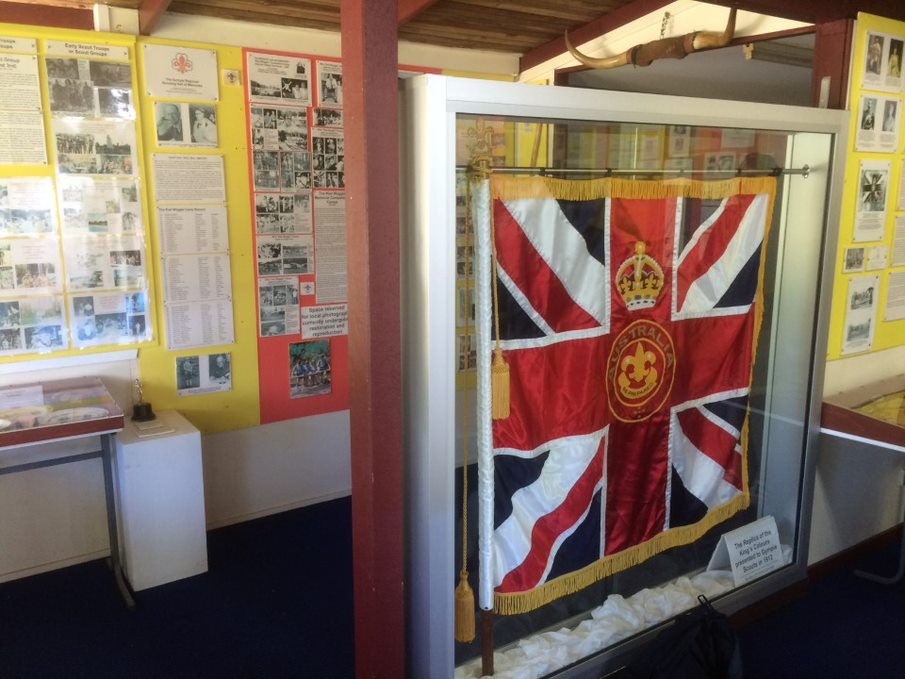 Replica of the King's Own Flag on display at the Gympie Scouting Hall of Memories Museum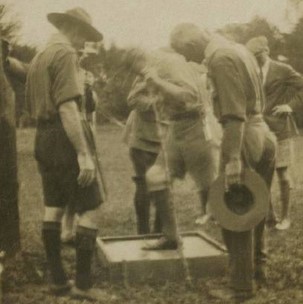 When Lord Baden-Powell visited Queensland in 1931, he left his shoe imprint in concrete at the base of the Owl Totem Pole at Eprapah Campsite, Victoria Point.