Tales from our Heritage: How Scouting Began
How Scouting began – It is difficult to appreciate how an organisation such as Scouting would have started so successfully and spread around the world before the days of technology & communication and international air travel.   The story of how Scouting was started by Lord Robert Baden-Powell is well documented and an interesting lesson in the spread of character development and goodwill in the community.
On a "BBC" radio broadcast, Lord Baden-Powell, B.-P., on his 80th birthday in 1938, said that he did not start Scouting – it started itself.  This is perhaps true, but B.-P. played a big part in its formation.  As a schoolboy, he spent many hours out in the fields, cooking his meals, observing nature, sailing the canals with his brothers, and just taking part in many outdoor activities then unknown to the average English boy.  He further developed many of these skills when he joined the Army and he encouraged his soldiers to think for themselves by being self-reliant and resourceful.
B.-P.'s method of training was published in a book "Aids to Scouting" in 1900.  During a display by the Boys Brigade in 1903, B.-P. told the founder of the Brigade, Sir William Smith, that he could increase the membership ten times if he added more variety and attraction.  Sir William asked B.-P. to write down his ideas, so he set about rewriting "Aids to Scouting" which became the basis of "Scouting for Boys".  From July 25th to August 9th, 1907, B.-P. held an experimental camp on Brownsea Island near Bournemouth, England.  Twenty boys were formed into 4 patrols, each with a Patrol Leader – the Patrols were Curlew, Raven, Wolf and Bull.  B.-P. was the Scout Master, with Major Mc Laren his assistant and B.-P.'s nephew, Donald, was Quartermaster.
Following the success of this camp, "Scouting for Boys" was published in 6 fortnightly issues for 4 pence (3 cents) per copy.  Boys all over Great Britain rushed to buy the book.  Without the need for adult help they formed into Patrols and carried out the activities in each issue.  As the months went by the boys persuaded the local policeman, church minister or a dad to become a Scout Master.  Copies of "Scouting for Boys" were sent to friends and relatives around the World.  Scouting commenced in Queensland in August 1908.  From that small camp at Brownsea, the Scout Movement today has grown into a global movement with a membership of 54 million Scouts in 172 member organisations/countries.   The Adventure in Scouting continues today.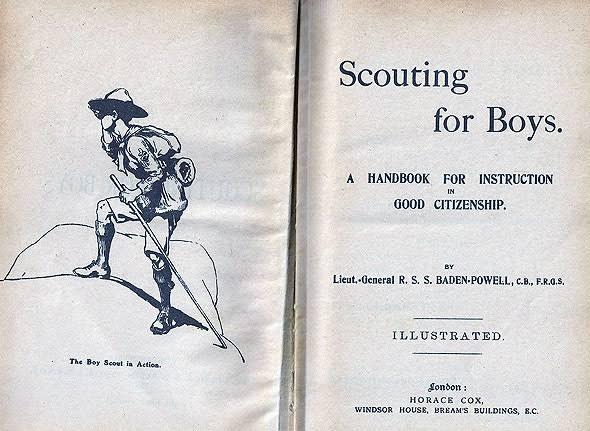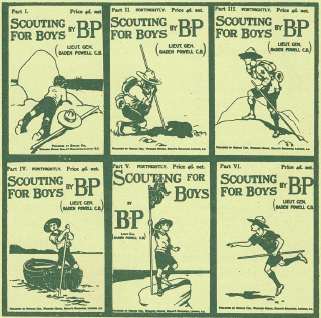 These are the covers of the six original issues of "Scouting for Boys"; now available in one book.
Have you ever borrowed it from your Group library and read it?