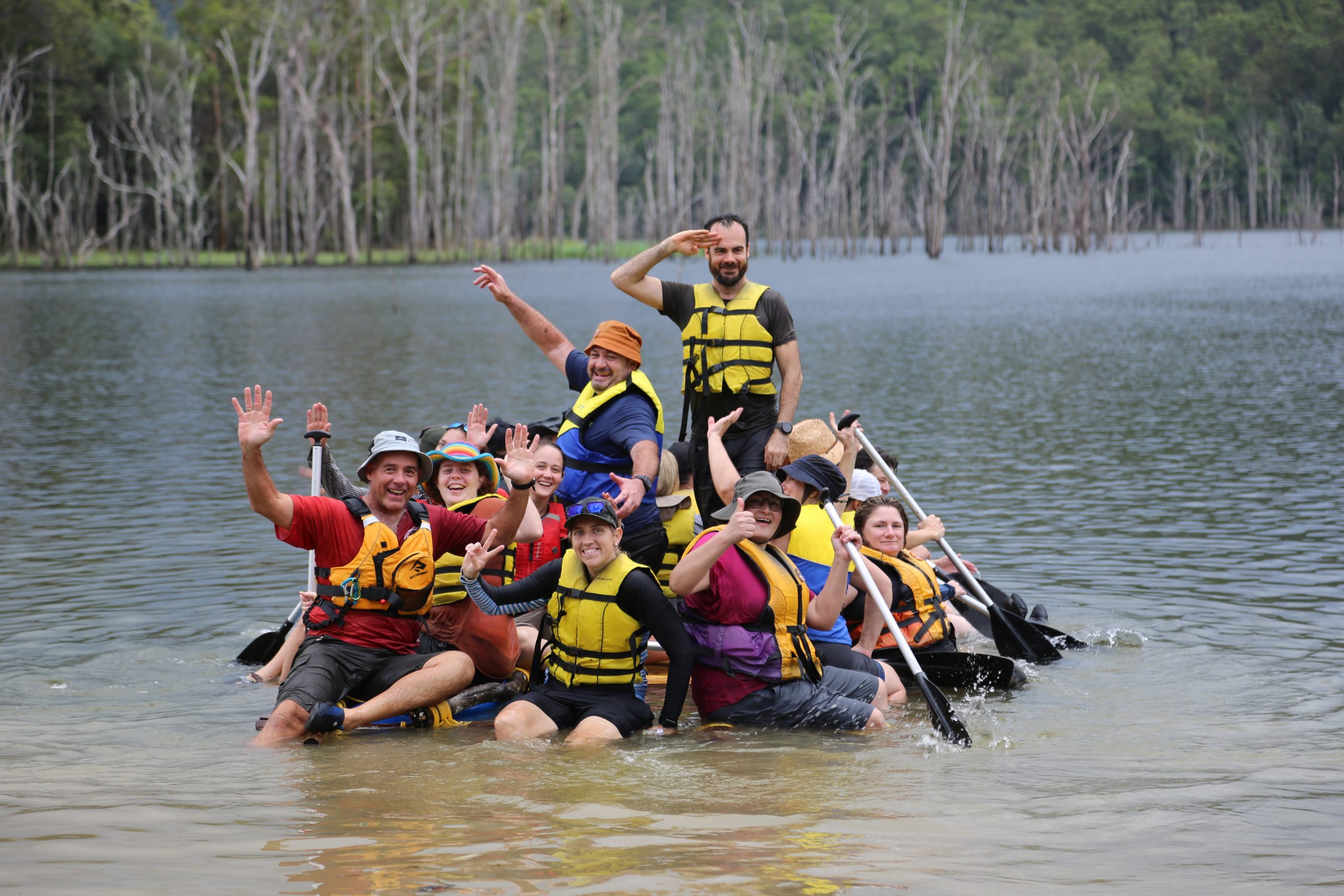 Every year the Gold Coast Region holds FERAL (Fellowship Educating Real Attitude Leaders) camp for Leaders across the Region. The purpose of this camp is to enjoy the company of fellow leaders, participate in a range of activities that allow us to reconnect with the program we are delivering and to learn a few new skills along the way. Just like most things over the past two years COVID has hampered the usual delivery of this camp. This year we were able to return to a more normal time frame and format.
The location for this years camp was at the Numinbah Scout campsite, located on the western arm of Hinze Dam in the Numinbah valley. This site offers bush camping and access to a wide range of outdoor activities both on the land and water.
Participants at the camp work as Patrols across the weekend with their first task being to construct a Patrol table which they were to use across the weekend. Next up was some campfire cooking with scones, mini hotdogs, worm in an apple and baked potatoes with bacon and cheese all on the menu. These were cooked on campfire coals, in camp ovens and in box ovens. The food was that good that the Leaders chose to forgo lunch and keep on with some trust activities. Afternoon saw them out rogaining after a little compass refresher. This was followed by raft building with a little patrol rivalry thrown into the mix. It was interesting to see each Patrol come up with a different design for their raft and see how well everyone participated in the construction. They then raced them around a buoy in the dam. The activity finished with the formation of a larger raft which held 21 Leaders
Saturday nights dinner was a smorgasbord with each Group contributing a main and desert to the common dinner. There was some great cooking on offer with some wickedly sweet desserts to follow. After dinner it was into the trivia competition which was put peoples knowledge to the test. The amount of spirited persuasion (arguing) was less than usual, with people being tuckered out from a day full of activity.
Sunday morning began with a Scouts own. Every one had an opportunity to reflect on the weekend and it was great to hear how much they got from it and the place Scouting held in their lives. The rest of the morning was dedicated to working in sections where we looked program development around the current award scheme and wen on to run program elements.
All too soon it was over and we were heading home with a new batch of FERAL's eagerly waiting next years reunion.
Steve Marshall 
Region Commissioner Gold Coast