Chief Commissioner visits Mackay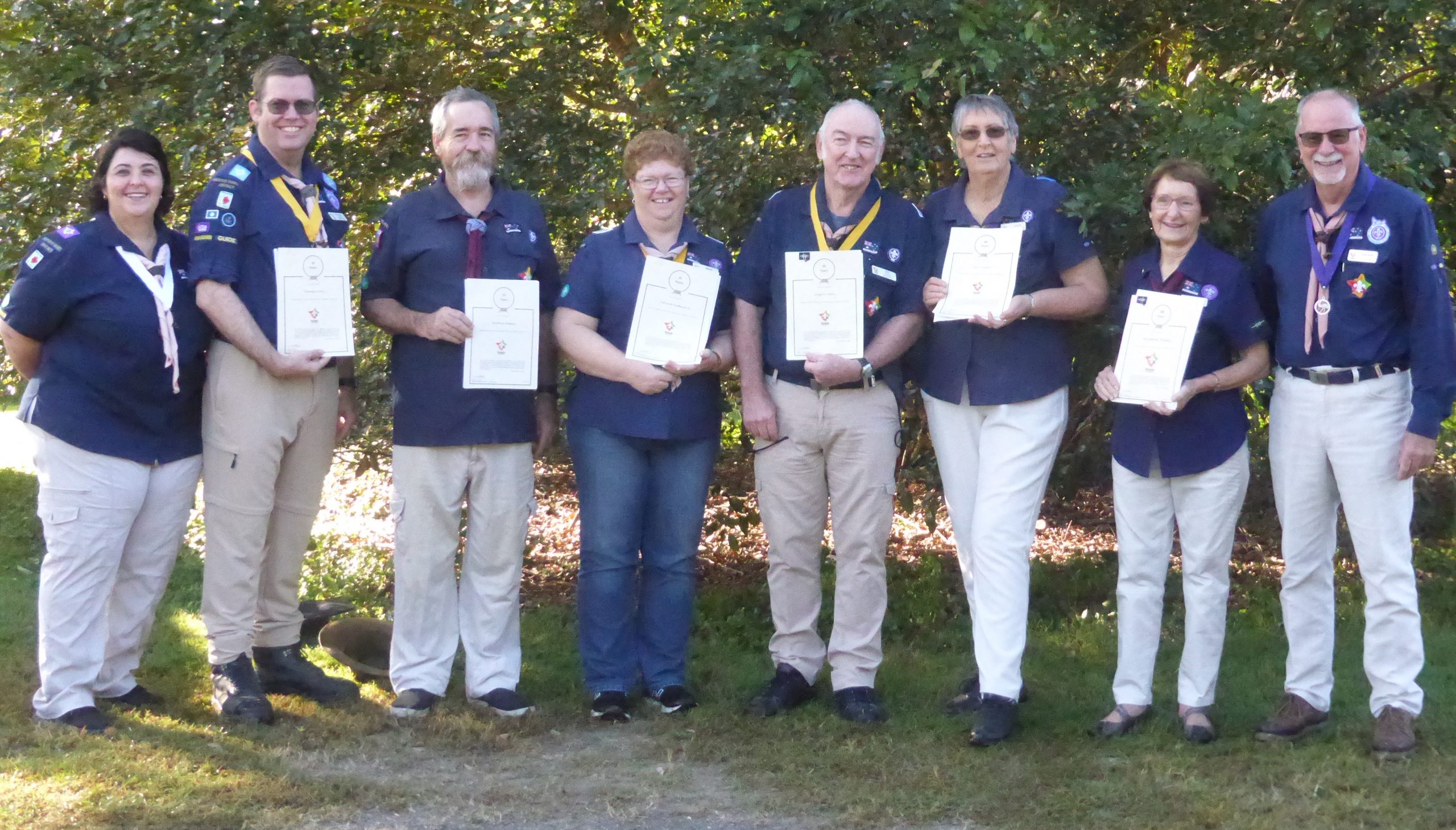 DC Katrina Hoare, AAL Brendan Ross, SL Matthew Holmes, AGL Deborah Rutherford, GL Greg Milne, DL PR Mary Wallace, Scout Fellowship Treasurer Margaret Hodda, Chief Commissioner Qld Branch Mr Daryl Scott.
The Chief Commissioner of Scouting in Queensland,  Mr Darryl Scott came to Mackay for the Hibiscus Coast District Annual Management Seminar (DAMS). He had the pleasant task of presenting Long Service decorations in recognition of voluntary service to Scouts Queensland to six members of the Hibiscus Coast District.
Hibiscus Coast District (HCD) Adventurous Activities Leader Brendan Ross was presented with his 10 year service badge. Brendan has had many years of scouting as he moved through the youth sections and achieved the Queen's Scout Award and went on to Rover Scouts and joined up as a Leader.
Banksia Scout Leader Matthew Holmes was presented with a 15 year service Badge. The majority of Matthews service has been to the Kennedy Region, where he served on the parent committee before signing up to be a Scout Leader, he went on to be a Group Leader, and later as the Region Leader for Information Technology. Matthew has been at Banksia Scout Group for 10 months.
Mackay City Central (MCC) Assistant Group Leader Deborah Rutherford was presented with her 20 years service badge. Deborah's service has all been to the MCC where she has been the Cub Scout Leader for most of that time and last year took on her current role.
Mackay City Central Group Leader Greg Milne was presented with his 35 year service badge. Greg's first 25 years was to scouting in the Northern Territory where he held the roles as Scout Leader in North East Arnhem Land, he went on to the Branch Team in Darwin. He has also been a part of the Adventurous Activities Team where he enjoyed taking the water activities. For the 10 years he has been in Mackay he has been the Group Leader at MCC Group.
Hibiscus Coast District Leader for Public Relations Mary Wallace was presented with her 40 year Service Badge. She joined the Calen Scout Group as Secretary of the Committee, four years later she became the Cub Scout Leader and went on to be the Mackay District Cub Scout Leader and to the Public Relations role she how holds, responsible to the quarterly newsletters and newspaper articles.
Margaret Hodda was presented with her 60 years service badge. Margaret is currently the Treasurer of the Scouts Fellowship Committee. Over the years Margaret has been a great inspiration and mentor to many in her leader training role. She was a member of the National Training Team. She was introduced to scouting in 1961 when she was single and courting her now husband Bob Hodda. She became a Cub Scout Leader at 3rd Mackay Group which is now Mackay City Central Group. Margaret and Bob moved to Townsville from 1975 to 1985 where they continued in scouting. On return to Mackay she took on the role as District Venturer Scout Leader and in 1990 she became District Commissioner for Mackay District a position she held for 15 years.
DAMS was held at the Kinchant Outdoor Education Centre on Saturday 4th and Sunday 5th June. District Commissioner Ms Katrina Hoare convened the management seminar, and participants were bought up to date with ever changing and improved programs as well as training, and child safe and safety procedures. The digital technology with Timetree and the online Scouting permission forms and recording were explained to the Leaders.
It was very inspirational and uplifting to hear and observe the abilities of the young Adventurous Activities Leaders and Rover Scouts who have taken on leadership roles. They are a credit to their former leaders as well as themselves for the dedication and time they are prepared to volunteer to the Scouting Movement. It is enlightening to see that they are now imparting their knowledge and skills on to the youth of today. Scouting in the Hibiscus Coast District is alive and well in good hands.
Mary Wallace, DL PR
Hibiscus Coast District