From the Chief Commissioner
We mark the passing of Her Majesty, Queen Elizabeth II on 8 September 2022. 
For many Scouts Queensland members, past and present, Her Majesty held a special place in our Scouting journey. For some that will be reflected through the promise taken when joining Scouts or through a reaffirmation of the Promise.
We have established a mechanism for Scouts across the State to send messages of condolence to the Royal Family. This provides an opportunity for Units meeting this week to discuss the passing of Her Majesty with Youth Members and capture their thoughts. Condolence messages can be sent to: condolences@scoutsqld.com.au.
Following the funeral, we will collate these and send them to the Governor of Queensland and Chief Scout, Her Excellency the Honourable Dr Jeannette Young AC PSM.
Over the last month I have highlighted to our leaders the following topics- 
COVID is widespread in South-East Queensland so please encourage the use of the usual precautions – vaccination, social distancing and mask wearing supported by good hand hygiene.  
Induction of parents of new Youth Members into Scout Groups 
Most parents do not know too much about Scouting when they sign their child or children up to for membership of Scouting.  It is up to us to explain to them our history, how we operate and the benefits that their child or children will get from Scouting.   
Some years ago, we wrote a Parent Information pack which has been updated a number of times.  It is accessed as Step 3 under Ready Set SCOUT! on our web page.  That document is accessible here: PowerPoint Presentation (scoutsqld.com.au)  
Some Scout Groups are scheduling regular "Parent of new Youth Member Induction" evenings – monthly or bi-monthly and inviting the new families along to those sessions.  
Scouts |Terrain 
Scouts |Terrain has been developed for Scouts Australia by IT developers TwoBulls to allow Scouts to plan and track their journey through Scouting. I wonder if we should be taking the "Youth Leading, Adults Supporting" approach to challenge the Youth members to learn the system and how they want to use it.
There is a lot of downloads and videos available to help learn more about the system at Scouts | Terrain.  
Joey Jaunt 2022 
Joey Jaunt 2022 was held at Baden-Powell Park on 6 August and attended by 600+ Joey scouts supported by Leaders and parents.  There were Outdoor Adventure Skills in the form of archery, low ropes course, abseiling, rock climbing, pioneering rope bridge and well as many of the core-Scouting activities including cooking, screen printing, Heritage, campfire and craftwork.  
Update on construction of the new den for Indooroopilly Scout Group
These photos show the progress of the Indooroopilly build: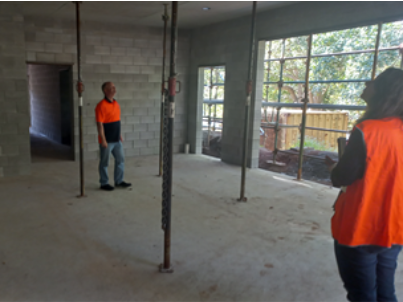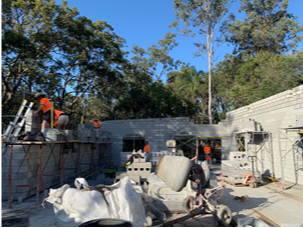 Other Group Facility News  
Bracken Ridge is the other Scout Group that is temporarily without a home following inundation during the February floods and the subsequent irretrievable floor damage.  This is complicated by a Brisbane City Council project to replace the aged roof.   
Mt Cotton Scout Group had a sink hole open up underneath one of its buildings during the same rain event, leaving a number of the building stumps hanging in free air. This has now been repaired, paid for by our insurance allowing the building to be used again.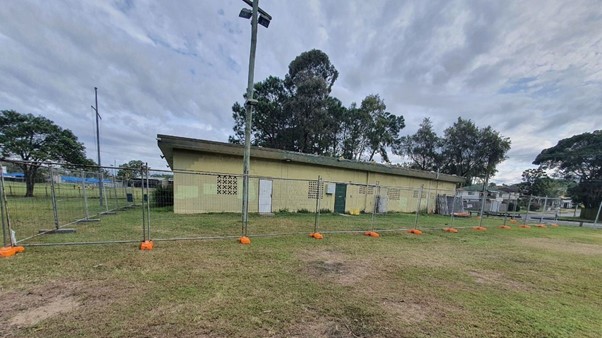 Scout Involvement at the Royal National Association (EKKA) 6 – 14 August
Scouts Quensland participated in the traditional themed Youth in Agriculture fruit and vegetable display in the Agricultural Hall and achieved a number of awards for our display – 1st Most Creative Display, 1st Best Visual Display of Vegetables, 2nd Youth Fruit and Vegetables, 3rd Product Quality, 3rd Effective Arrangement. 
The Scout Flag bearers for the Ekka flag ceremony in the main arena each evening at around 7pm were great ambassadors for Scouting with the commentator naming each of the Youth Members each night. Well done!
Working relationships between Leaders
Managing the working relationships between adults is often one of the more difficult tasks for a Leader of Adults in Scouting.

Our Purpose (The Purpose of the Scout Movement is to contribute to the development of young people in achieving their full physical, intellectual, emotional, social and spiritual potentials as individuals, as responsible citizens and as members of their local, national and international communities) should be a unifying statement that focuses the efforts of Adult Members towards the delivery of that Purpose.
 
On-line Membership Application Form
The on-line Membership Application form is now in its third week of operation with good take-up across the State.   
Operation Nighthawk
The almost annual 39th Darling Downs Region Operation Nighthawk was run overnight on Saturday 13 August in Goombungee (40km out of Toowoomba) with 800 Scouts navigating the 12km course through grazing country and seven bases and 400 Venturer Scouts taking on a separate 15km course and 5 bases.   
Award Ceremonies 27/28 August at Baden-Powell Park
Three award ceremonies were arranged over the 27/28 August weekend at Baden-Powell Park.
On Saturday there was the presentation of ASM/ARA certificates.
On Sunday, the first ceremony was the presentation of Adult Recognition Awards except Silver Kangaroo and President Award. The second ceremony was preceded by the investiture of the Governor of Queensland, Her Excellency the Honourable Dr Jeannette Young AC PSM as our Chief Scout. The second ceremony on Sunday was the presentation of the Queen's Scout certificates, Baden-Powell Award certificates and the Silver Kangaroo.  
 
LEAP 2023
Arrangements are rapidly progressing for LEAP 2023 a new Scout Patrol focused event to be held Thursday 29 June 2023 to Tuesday 4 July 2023 at two venues simultaneously in South-East Queensland and Northern Queensland.  The event will be self-catered with Patrols bringing their own camping gear. 
If you would like to read more from the Chief Commissioner follow this link to previous editions of the Chief's Newsletter – HERE