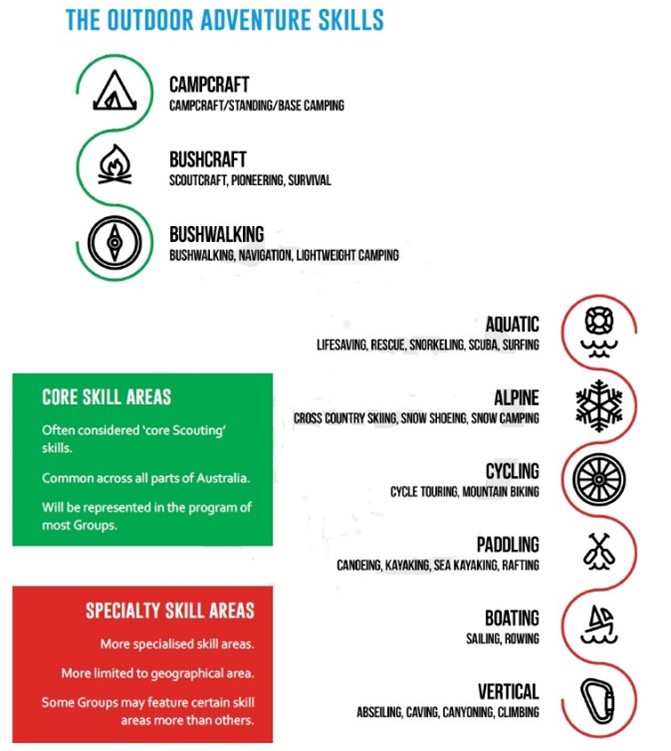 One of the new features of our Youth Program is the Outdoor Adventure Skills. The Outdoor Adventure Skills Area presents several of the most popular outdoor pursuits. There are nine stages in each of the areas and these span the entire program from age 5 to 25 years. Badges earned in each area can continue to be worn when transitioning to the next section.
The Outdoor Adventure Skills are encouraged for all sections and all youth members. There are no age restrictions on achievement, except where required by Australian legal standards. The Outdoor Adventure Skills areas are divided into two broad categories: core skills and specialist skills.
The core skills are readily available to all Scouts, no matter where they live. They cover core areas of Pioneering, Bushcraft and Bushwalking.  The Specialist Outdoor Adventure Skills include Alpine, Aquatic, Boating, Cycling, Paddling and Vertical. These are more specialised, and may be limited by geographic locations. They are split further into land and water-based activities.
As Scouts progress through the Stages, some of the Outdoor Adventure Skills areas split into streams, or more specific specialisations (for example, cycling will split into cycle touring and mountain biking).
Each Outdoor Adventure Skill is split into nine Stages, with each Stage involving a series of competencies. The earliest Stages involve basic skill development and are designed to be achievable for the younger age groups. By the later stages of each Outdoor Adventure Skills area, Scouts will be considered very advanced in that skill area.  They may be able to gain a VET (Vocational Education and Training) qualification as a result of completing some OAS areas.
The Outdoor Adventure Skills are intended to be achieved by individuals, though a Unit or Patrol might explore skill development together. As progression through the Outdoor Adventure Skills is quite individual, Scouts will probably be developing at a range of different Outdoor Adventure Skills Stages at the same time. Scouts are encouraged to share their interests with others. Experienced Scouts should mentor and support less experienced ones through their Outdoor Adventure Skills progression. As a general rule, skills being developed by a Scout can be assessed by another Scout in a 'two-down approach'. This means that a Scout who has achieved an Outdoor Adventure Skill Stage at least two Stages more advanced than another Scout (regardless of section) within the same stream can assess their skills.
The Outdoor Adventure Skills may help inspire ideas for outdoor challenges, inspire the nature of an adventurous journey, weekend or holiday camp or activity, or a Patrol project. We hope you enjoy this new area.
Youth Program Team