Toowoomba Peace Day
Bunya Park Scouts participated in the Toowoomba Peace Day on 1 October. The Peace Day was in conjunction with UNESCO Peace Day celebrated on 21 September. Scouts helped with logistics and promoted Scouts as Messengers of Peace. The youth members also showed off their construction skills and invited members of the public to join in with knots and lashings. They met many different members of the Toowoomba community forming new networks with the other groups in the city. Youth members who participated were presented with their Messengers of Peace badge publicly.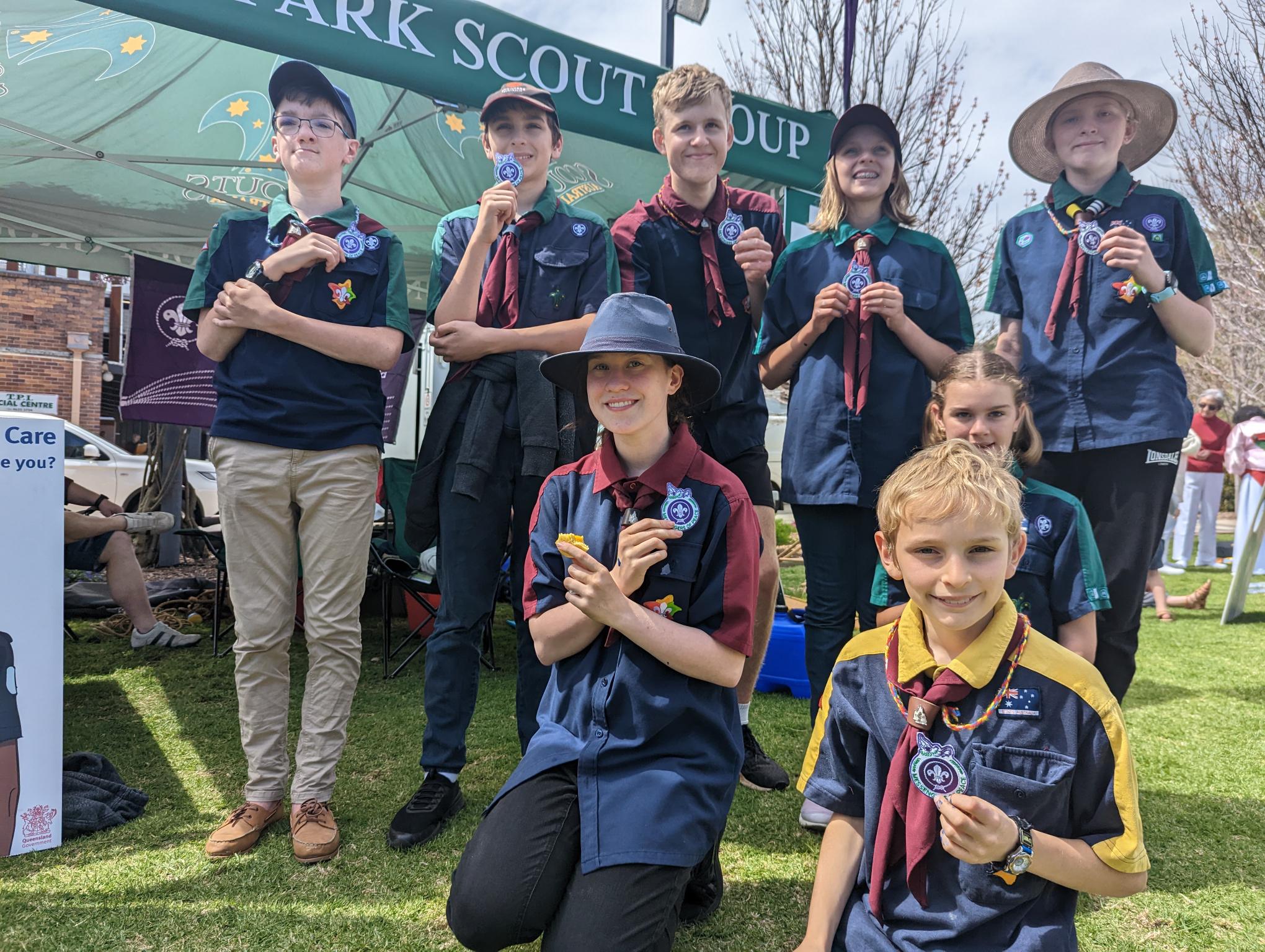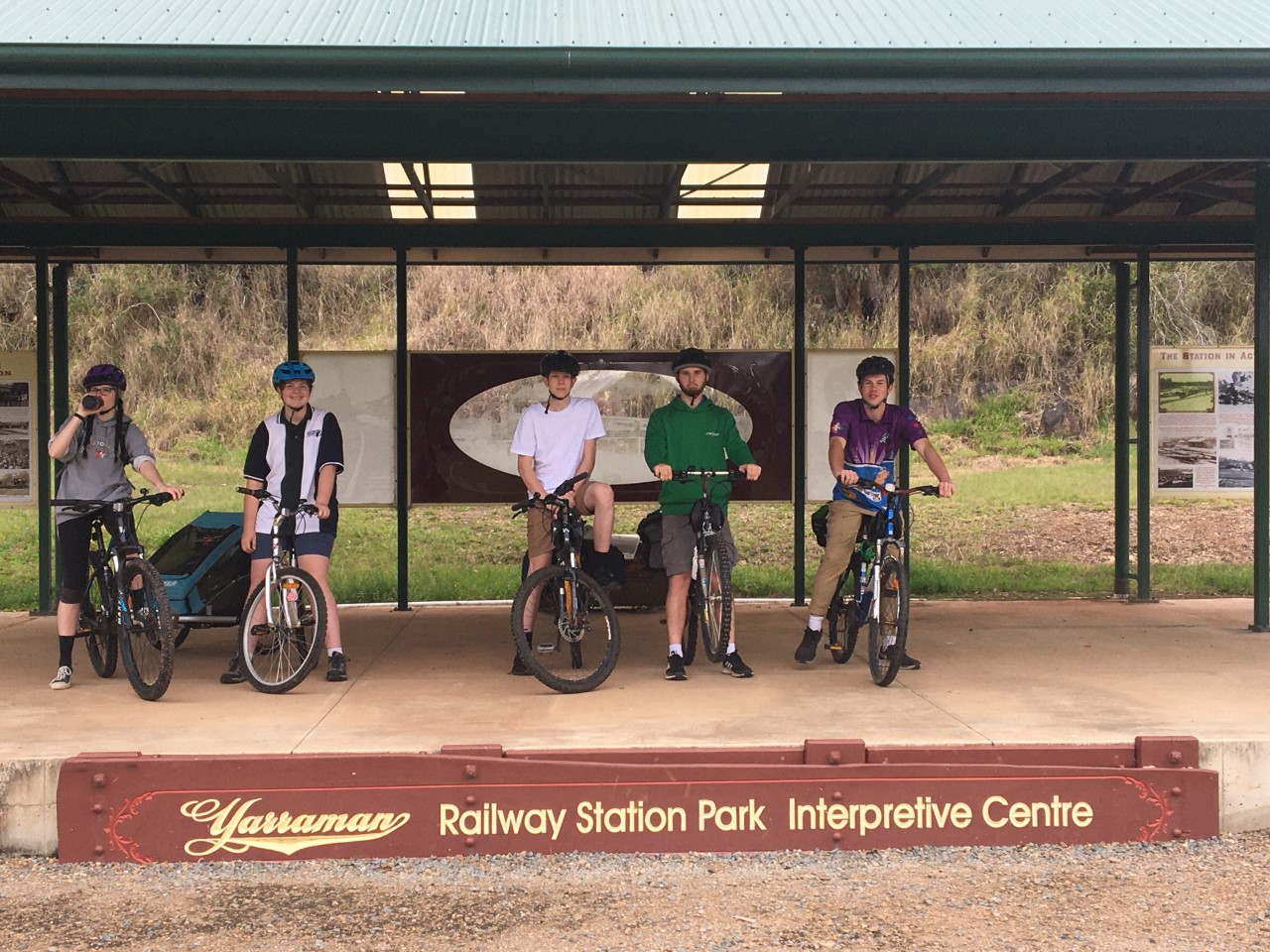 Brisbane Valley Rail Trail Adventurous Hike
Emma and Jacob completed their Adventurous Journey over the school holidays four days and three nights riding 161 kms from Yarraman to Wulkuraka via the Brisbane Valley Rail Trail (BVRT).
With overnight stops in Linville, Toogoolawah, and Lowood the team of five Venturer Scouts stuck together and helped each other out with bike maintenance being done as required.
We had great feedback from other travellers on the BVRT.
BRAVO from your leaders! You Venturer Scouts never stop amazing your leaders in what you can achieve with the support and encouragement of your unit.
Congratulations Emma, Jacob, Bonnie, Oliver, and Nathan!
Kepnock Scouts Clean Up at NRL Game
Kepnock Scout Group reaped the benefits of Bundaberg hosting the Bulldogs end of season game. The recent sold-out game was a brilliant opportunity for local community groups to get fundraising, Kepnock took up the opportunity by collecting rubbish after the game and raising $1,100! 
Chair of the Parents Support Committee, Matt Gee, discussed this project in an article with Bundaberg Now: 
"This was one of our biggest clean up exercises where we collected over 1000 aluminum cans and other recyclables and returned Salter Oval to a much better condition by cleaning up rubbish as well as recyclables," Matt said.
"Our clean-up was done over two days with a dozen people (adults and youth) putting in four hours on the Sunday night and then four adults (including a grandparent) doing another six hours on the Monday."
 Great work Kepnock Scouts!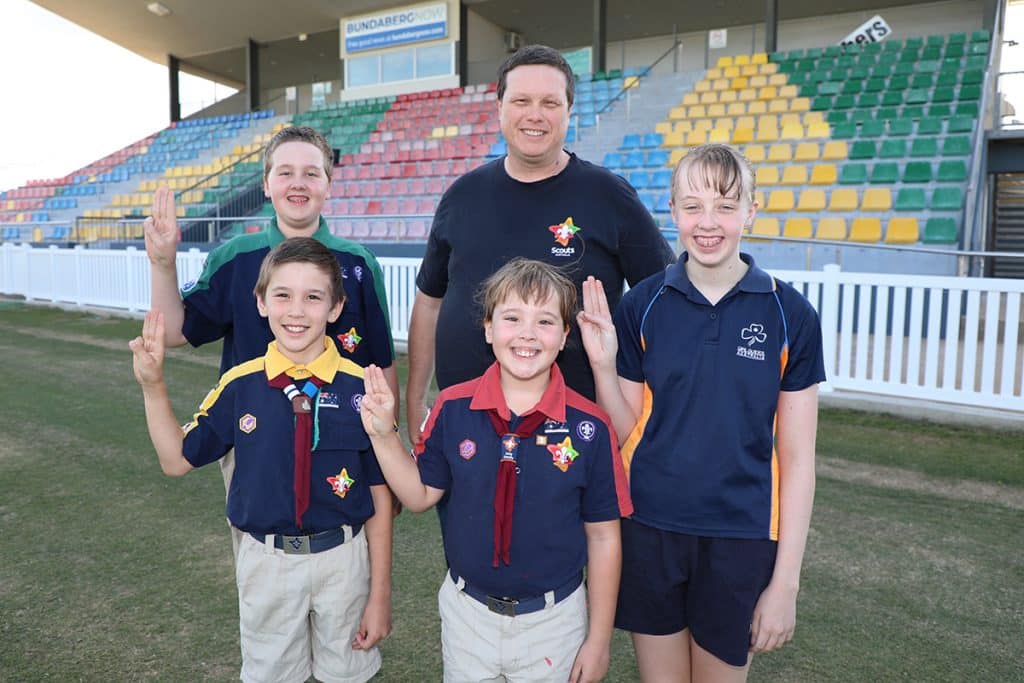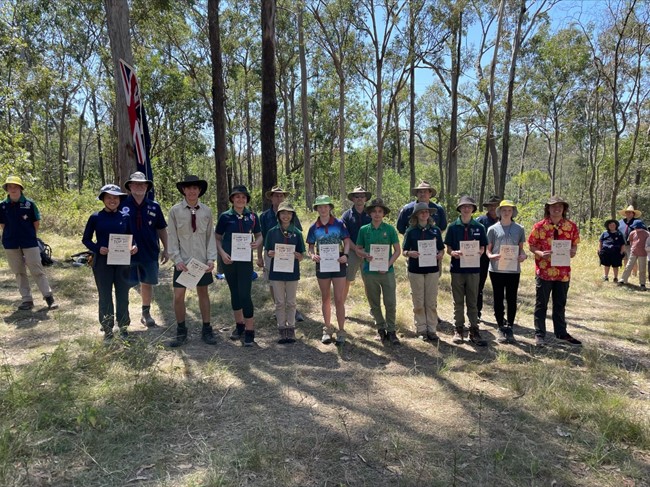 Butterfly 2022
Last weekend 260 Scouts and 60 Adult Leaders attended the 33rd Butterfly. The activity was held at the Murrenbong Scout Campsite.
Butterfly is a Scout Section patrol-based activity. Its main purpose is to present an activity that challenges the Scout's Creativity, Imagination and Ability (basic Scout skills, teamwork and initiative). The format of the activity is relatively simple; using a combination of written and verbal instructions provided to them by Adult Leaders, Scout Patrols deploy their skills in code decryption and basic navigation to locate "Blaze Trees " which lead them to the eight activity bases. The activities, though simple in appearance on the event day, are the culmination of a year's meticulous planning in advance by the event organisers. 
This year's theme was based on English Tourists re-tracing the original steps of the Queensland Explorers. Tourists visited the outback towns (Activity bases) of Goondiwindi , Thargomindah, Quilpie, Longreach, Boulia, Charleville and Roma as well as Brisbane.
Adult Leaders attending the event also benefit in a number of ways such as challenging themselves to think of novel ways to present an activity; social interaction with other Leaders and the exchange of great program ideas to pass on to their Scouts Units. Leaders may also develop an understanding of where their Scouts could improve which can assist them to better target skills shortages in future programs.  
We thanks all for their efforts to make Butterfly 2023 a great success including it's founder and main organiser, Ron Wallace OAM, and his 2IC, Scott Orchard, SL from the Gap Scout Group.
Queen Elizebeth II Memorial Service
Youth members from the ACT Branch accompanied Scouts Australia Chief Commissioner Phil Harrison in attending the Memorial Service for Queen Elizabeth II. They carried two wreaths to the stage, and held baskets of wattle sprigs for the 700 or so guests to select and place in remembrance of the late Queen.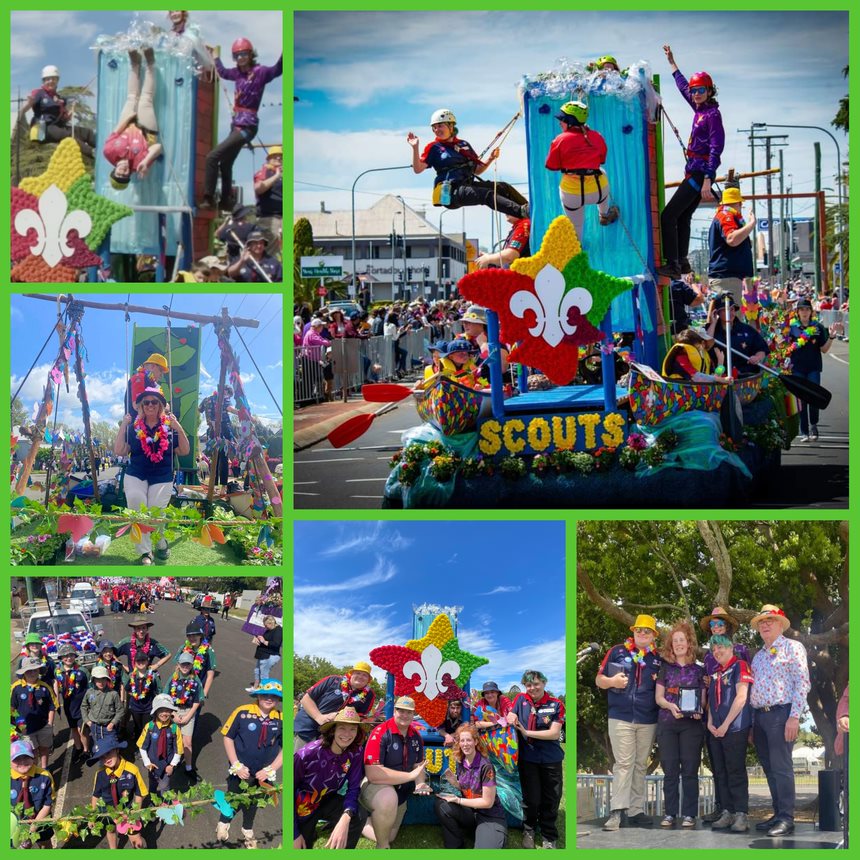 Toowoomba's Annual Carnival of Flowers
Congratulations to Darling Downs Rover Scouts who participated in Toowoomba's annual Carnival of Flowers and achieved a first in the Community Float Division as well as the overall 2022 Grand Champions of the Parade. 
The theme was 'Reflect, Connect and Sparkle' and the float incorporated canoes, an abseiling / climbing tower, a pioneering swing and youth hiking. Bravo to everyone involved!