Scouts Queensland offers our support to the families of those that have "gone home".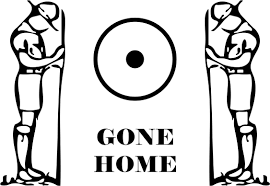 Cynthia May Cronin (December 2023)
Cynthia was a member of the Baden Powell Guild of Australia Darling Downs Subbranch up until her death. We offer our sympathy to David, Cynthia's husband, and Michel their son in Melbourne and Patricia their daughter in the UK.
Cynthia was born in Margate Kent UK on 1 March 1932. During Cynthia's life she Scouted in many parts of the world. David and Cynthia often told stories of their family life together travelling the world during David's military service. Cynthia did a Cub Scout Stage 1 course on 27 September 1952. Cynthia signed up as Group Leader at Oakey 22 October 1990.
Many people within and outside the Darlng Downs Region will have known Cynthia as the Chief Cook at many Scout Leader training courses held at Wirraglen Campsite and Training Ground.
Cynthia May Cronin was awarded the Silver Acorn in 1991 and the Silver Kangaroo on Founders Day 22 February 2003 for her fine service to scouting.  A life devoted to scouting from the age of twenty years until the approach to her ninety second birthday.
Dianne Randerson 'Di' (October 2023)
Di commenced Scouting in 1979 as the Group Leader of Kenmore South Scout Group, and later transferred to District Leader and then District Commissioner for Tyakunda District.  She was also appointed Branch Commissioner Public Relations for 3 years, and in 1995 accepted the role of Group Leader Scoutreach Lones serving in this role for 17 years.
During this time, Di organised the annual Scoutreach Lones camp at Baden-Powell Park which was a huge highlight for the many country Scouts and Leaders who attended.  Di also attended the World Jamboree in Sydney in 1988 and three Australian Jamborees, including serving as the Qld Contingent Executive Officer at the 1992 Ballarat Jamboree.  Di gave 35 years' service to Scouting and was award the Silver Kangaroo in 2012
John Briggs 'Vis' (September 2023)
John commenced his Scouting life as a Cub Scout in England and later served as a fighter pilot in the Royal Air Force during WW2.  
When he came to Australia in 1950, he signed up as a Leader in Victoria. John moved to Queensland in 1955 where he started a Senior Scout Troop at the St. Lucia Group and changed to Group Scout Master.  He held a number of Scouting roles in Queensland Branch, Brisbane North Area and Tyakunda District and was also appointed as a member of the Training Team.
At the 8th Australian Jamboree in 1967/68 at Jindalee, he was the Assistant Jamboree Camp Chief, heading up the Works and Services team.  John was Troop Leader at the 11th Australian Jamboree 1976/77 at Rossmoyne Park, Dandenong, Victoria.
Whilst an Assistant Scout Master at St Lucia in 1971 with Scout Master Bryan Brown, the Troop trialled the Design for Tomorrow Scout Section program review.
In later years John was the Secretary for Tyakunda District.  He gave 53 years of Service and was awarded the Silver Acorn for his services to Scouting.
Judith (Judy) Seymour (August 2023)
Judy commenced her Scouting in 1955 as an Assistant Lady Cub Master in New Zealand for two years, and in 1981 she returned to Scouting as an Assistant Cub Leader with Redcliffe Scout Group. 
Judy was always interested in the environment and the Eprapah Environmental Education Centre. She was appointed Branch Commissioner for Environmental Education in 2000 to 2015 when she changed role to Branch Advisor Chaplaincy Support whilst remaining as a member of the Eprapah Scout Fellowship.  
Judy is also fondly remembered for the Story Telling Workshops that she initiated and ran for Leaders. Judy gave 43 years active service to Scouting. Her knowledge and passion for Scouting and the environment has been shared through the teams she established, led and supported to promote environmental education.
In 2015 her service was recognised when she was awarded the Silver Kangaroo.
Lord Michael Baden-Powell (July 2023)
Michael's unwavering dedication to Scouting was evident in his deep passion for attending Scouting events and engaging directly with Scout Groups during Section nights or special occasions. He believed that by immersing himself at the grassroots level, he could make the most meaningful impact on the movement he believed in.
Michael's love for Scouting radiated brightly through his infectious smile and the sparkle in his eyes. His genuine joy for the Scouting experience touched the hearts of Scouts around the globe, and his absence will be keenly felt by all members of the Scouting community.
Len Greer (July 2023)
Len commenced his Scouting service in 1966 as the Group Scout Master with 1st Bundaberg Scout Group, transferring to Group Scout Master at The Gap Scout Group in 1968.  In 1973 he was appointed Assistant District Commissioner of Taylor Range District, then District Commissioner in 1977 – he served in these roles until 1989.  Len was awarded the Medal of Merit in 1986, and the 20 years Service award was awarded in 1987.  In 1977 Len was responsible for the preparation of the large bonfire at Mount Coot-tha for celebration of Queen Elizabeth's Silver Jubilee.
Meredith Lore (July 2023)
We are sad that Meredith, one of our great and long serving volunteers, passed away yesterday after a long illness. Meredith "Akela" was a Cub Scout Leader for 30 years at St Johns Wood Scout Group from 1977 to 2007 and trained hundreds of young people in leadership and resilience. She gave her time generously to deliver great camps, outings and weekly programs with flair and a passion for enjoying life to the full with a dose of irreverence. She was awarded the Silver Wattle and Silver Koala for her service to Scouting. She is survived by husband Greg "Digger", also a long serving volunteer leader at our Scout group and daughter Jordan.
Nicola Maree Bretag (June 2023)
We are saddened by the news that Nicola "Nikki" Bretag, Assistant Cub Scout Leader at Parkwood Heights Scout Group, has passed away.
Nikki has volunteered with Scouts for eight years and was greatly appreciated for the work she did. Our thoughts are with her family.
Hayden Nightingale-Smith (May 2023)
It is with deep sadness that Highfields Scout Group has advised of the sudden passing of Hayden (Louie), Rover Scout and former Assistant Cub Leader.
Aged eight Hayden joined Crows Nest Cub Scouts in December 2006, joining the Darling Downs Revue and achieving his Grey Wolf Award in 2008, advanced up to Scouts in 2009 and went to Venturer Scouts in 2013. In June 2016 Hayden became a Crows Nest Rover Scout and in 2020 transferred to Highfields Rover Scouts and remained a member there.
Hayden was always willing to help others in Scouts including doing some work at Wirraglen Campsite and for the past couple of years has been the driver of the Scouts award winning Toowoomba Carnival of Flowers Parade float.
Our sympathy goes out to Hayden's family who have all taken an active part in Scouting during his life.
Peter Clifford (April 2023)
Peter took on the job of Archer District Treasurer for just 12 months to help out a new District Commissioner establish a District Executive. After 19 plus years he decided to retire from the position of Treasurer.
Peter was awarded a Thanks Badge in 1996 and a Silver Wattle in 2001.
Rosemary McGinn (March 2023)
Rosemary and her husband Allan (who passed away in 2015) were part of the team who set up and manned the Scouting History base at the Collingwood Park Jamboree in 1982/83, and the subsequent establishment of the Baden-Powell Scout Museum (now our Heritage Centre).
They both then continued to serve on the Heritage Service Team and as Museum Guides for many years. Rosemary made a huge contribution to Scouts Queensland Heritage and was a special guest at this year's recent Baden-Powell Masonic Lodge Founders event.
John Edmondson (March 2023)
John was an adult member with the John Oxley District and was awarded a Silver Koala in 1998.