Moreton Region Raft Race
Moreton Region Raft Race was held early May with several teams entering.  Entries were down this year but the teams competing did demonstrate their pioneering and paddling skills with varying degrees of success.  It was a lovely afternoon with clear sunny weather and calm waters on the lake.
The first stage is the design of the raft.  Most teams used a pretty standard design with the large blue barrels.  Some used smaller barrels.
Next is the construction.  This may have been preceded by practice at the Den.
Then you launch and paddle!
Hopefully all is well, and you complete the course.  Sometimes you are not so lucky, and bits fall off, but that is all a part of the fun and we always have a safety craft just in case.
A good time and plenty of learnings all round. This year the event was won by TMT Venturer Unit.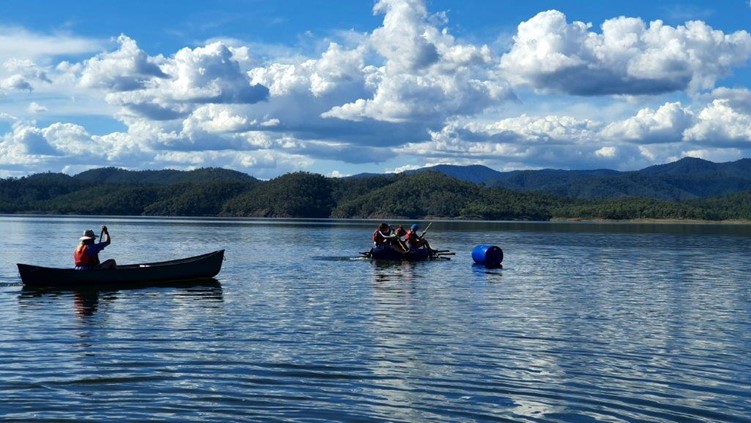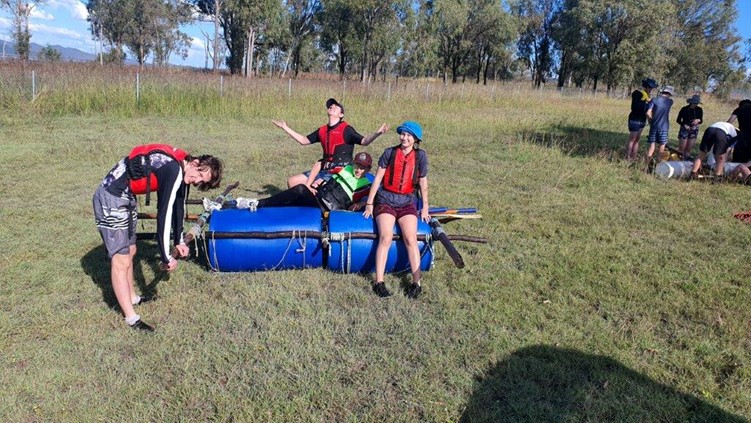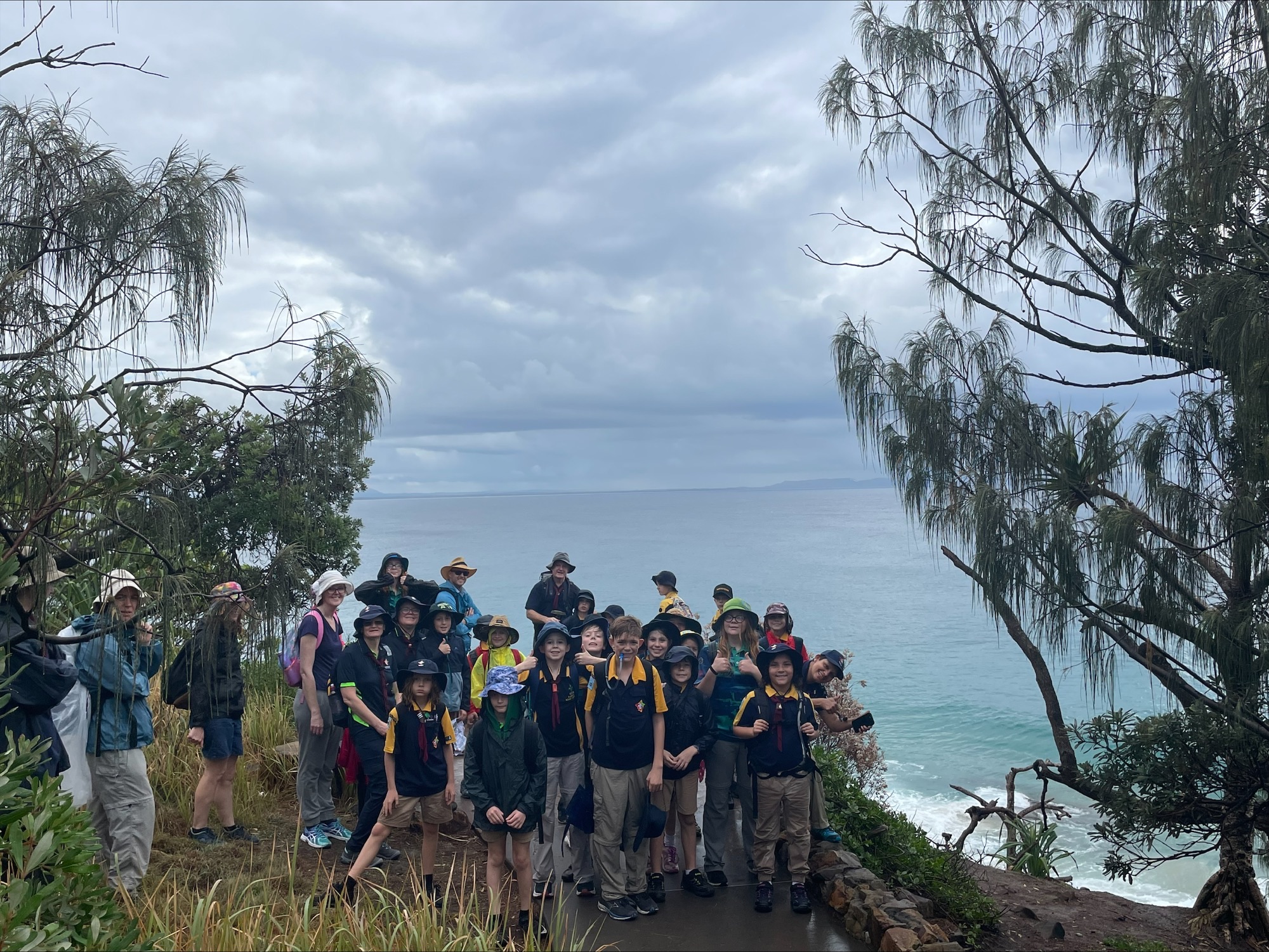 Beaver Master's District – Cub Scout Hike
Beaver Master's District cub scouts went on a 17km adventure through Noosa National Park on the weekend.  The cubs in attendance were engaged in demonstrating their Stage 3 bushwalking skills and were supported by a few scouts and venturers from Kawana Group. While on the walk the cubs were also working on an SIA badge learning about the native fauna and flora, and the traditional owner's of the land and their link to country.  They walked through rain and sunshine and were fortunate to see a pod of dolphins during morning tea.
Queensland Day Award
Samford Scout Group have been recognised for their dedication and contributuion to their local community, with a Queensland Day Award! Member of Parliament Nikki Boyd wrote, "They consistently demonstrate an exceptional commitment to fostering personal growth, leadership skills, and community engagement among young individuals. Through their diverse range of activities, including outdoor adventures, skill-building workshops, and community service projects, the Samford Scouts Group has positively impacted the lives of countless young people. Their tireless efforts in promoting teamwork, resilience, and environmental stewardship exemplify the spirit of Queensland Day and the values it represents."
Bravo Samford Scout Group!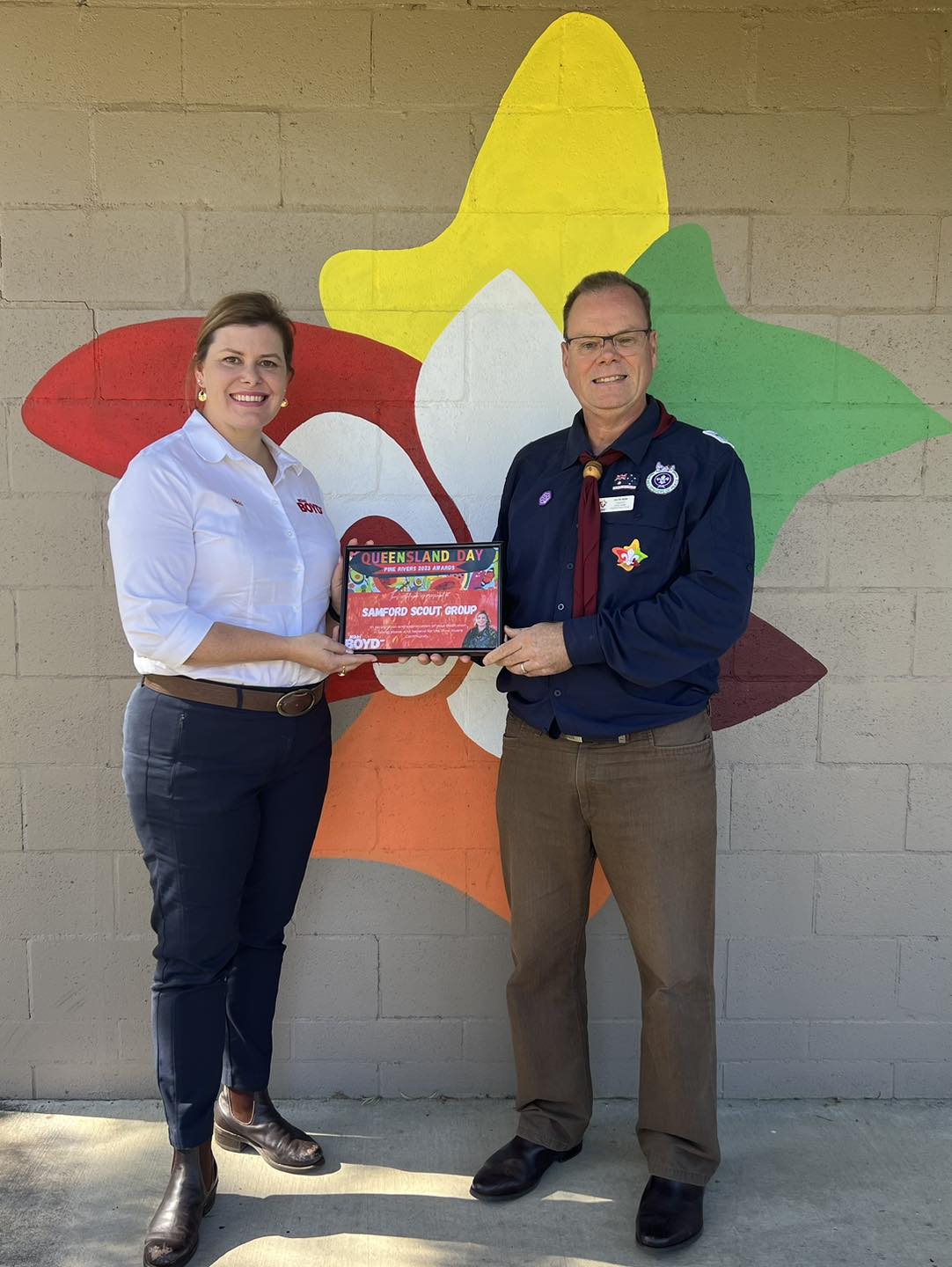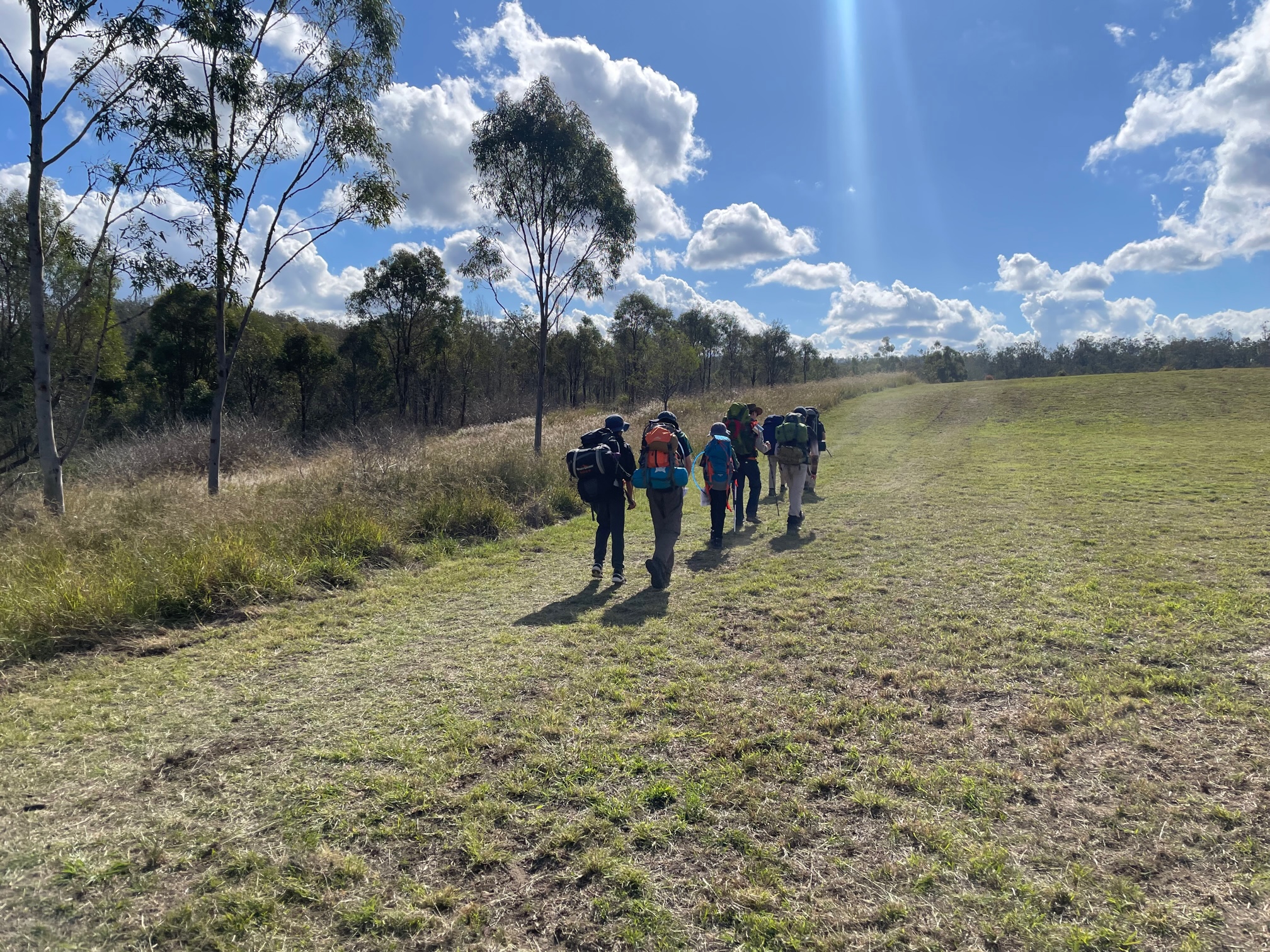 Brisbane South Region on the Trails (Again) – #brinstahike I & II
Brisbane South Region Scouts have just completed the second of two weekends of bushwalking with light weight overnight camps at Ngumbi Remote Camp site, Lake Wyaralong.  The activities were led by 25 Scouts in patrols and supported by 10 leaders over the two weekends.  Scouts from three districts and seven groups – Algester, Brisbane South Chinese, Pamphlett Tennyson, Robertson, Sherwood, Victor and West Centenary were on the trails Saturday 20 and Sunday 21 May, also Saturday 3 and Sunday 4 June.
The purpose of the #bsrinstahike's were for Scouts to become familiar with planning materials including maps, route plans and activity plans, on the ground navigation skills including use of compass and reading terrain, appropriate equipment selection, menu preparation, communications equipment, campsite layout and many other skills.  The Scouts all completed their OAS Bushwalking Stage 4 during the planning stages and over the activity weekend. 
These activities follow on the heels of OAS Bushwalking Stage 3 at JoTT and we go straight into the planning phase of Bushwalking Bonanza (IV) used for OAS Bushwalking Stage 5 and Adventurous Journey.
Tyakunda Trailblazer
On 4 June, Tyakunda District headed out to Kholo Bushland Reserve for the inaugural edition of our new annual rogaining event, named Tyakunda Trailblazer. This was a multi-section event with over 100 participants from all sections ranging from Joey Scouts through to Venturer Scouts, and another 20 Rover Scouts and Leaders accompanying the Joey Scouts and Cub Scouts or helping at HQ.
Each team planned their own route on the map, and when the whistle blew, ran off in all different directions on the way to their first checkpoint. They went from checkpoint to checkpoint with a map and compass, before making it back just before the two-hour time limit was up, with only three teams returning late (costing them a pretty hefty points penalty). Teams were rewarded with a barbecue lunch at the end.
Winners were announced for each section, and the overall winner was team Banana, comprised of four Indooroopilly Scouts; Caelan, Freddy, Kai and Nicholas. Second place overall went to a team of Cub Scouts, and third place to a Venturer Scout team. On top of that, all three Joey Scout teams beat at least one Cub Scout and Scout team, proving that this really can be a multi-section activity.
A big thank you goes to parent Adam Power for creating the maps and running the rogaine part of this event. We are already looking forward to next year's edition of Tyakunda Trailblazer, which will be even bigger and better than this year!