Interviewer:  The Wood Badge is quite an achievement for leaders, do you have any ideas to get leaders thinking about the Wood Badge Centenary?
Que:  I had a look at the World Scout Movement (WOSM) website, and found some interesting ones.
Interviewer:  What would some of these be?
Que:  One activity involves thinking about "Change".  At District Training Meetings, Leaders are asked to find out about what has changed in the Wood Badge training in the last 100 years, and what the leader thinks or expects will/should change in the next?
Interviewer:  What was the Wood Badge Training Syllabus like 100 years ago?
Que:  At the first Gilwell Park training course, the syllabus included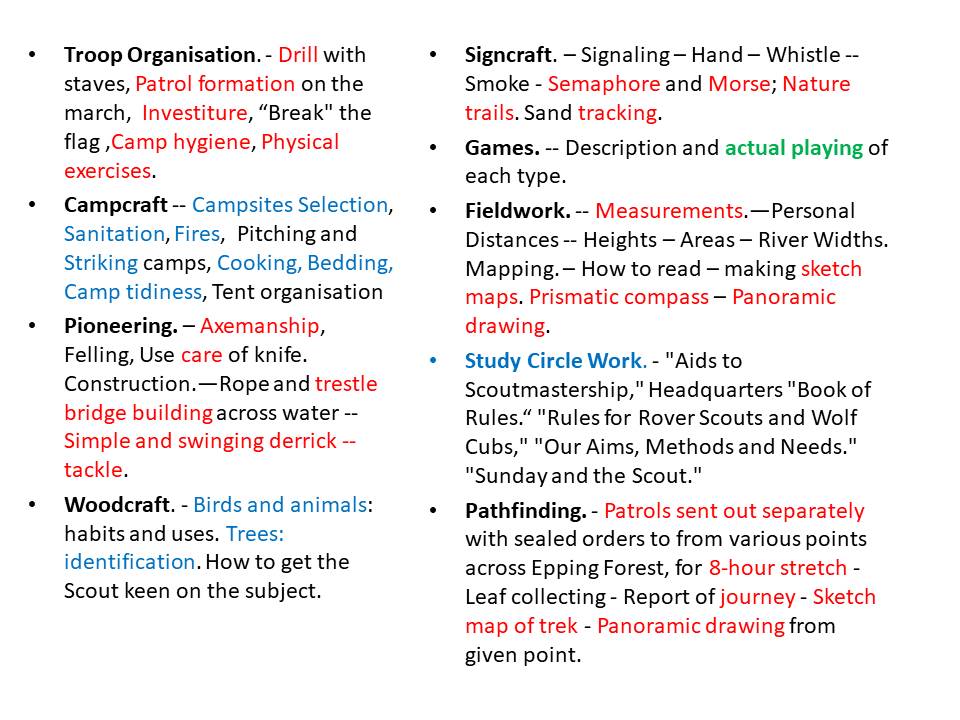 Interviewer:  That looks like quite an exciting and intensive program.  What other promotional activities did you find?
Que: Another topic that has been floated involves "Need".  This is an activity that requires Leader Trainers thinking about how the Wood Badge reflects needs of adult leaders in 21stcentury, how to involve volunteers and how to give them meaningful experiences.
Interviewer:  Hmmmm, I can think of lots of comments and responses to that topic.  Where there any particular topics that caught your attention? 
Que:  I thought the discussion topic of "What would happen if Wood Badge training did not exist" was quite a sobering one.  Nevertheless, leaders interested in more topics can find them at: https://www.scout.org/WoodBadge100