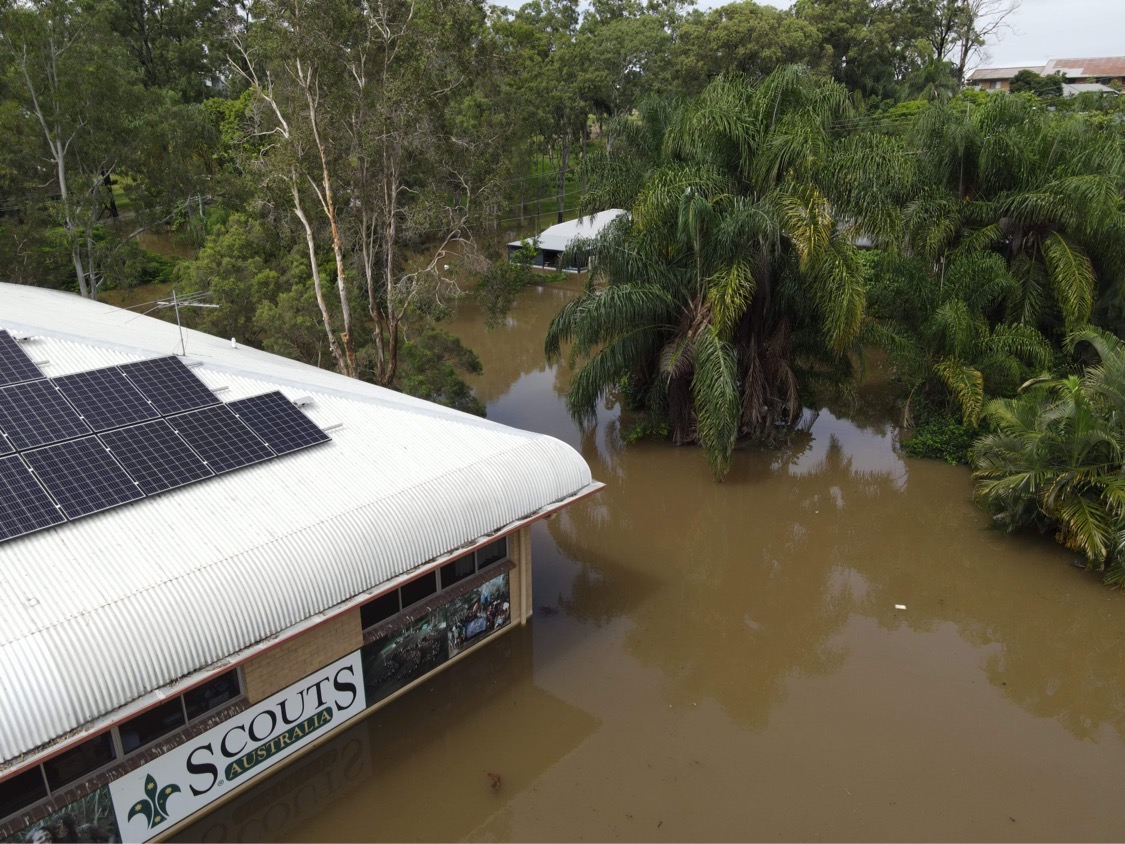 The recent flooding in South East Queensland has been well publicised in the media and our thoughts are with all those who have lost lives, homes and possessions.  The Queensland Scout Centre in Auchenflower was inundated however, an amazing effort by 40 volunteers over 3 days with a total of over 500 volunteer hours, has resulted in a clear, clean and safe space. In this weeks edition of the Chiefs Newsletter we read about the post-flood clean up. In case you missed it, here is the Chief Commissioner Daryl Scott's report:
"The flood clean-up in South East Queensland continues. The number of volunteers that have given of their time to work in hot, humid, smelly conditions, hosing, demolishing, sweeping, cleaning, unpacking, sifting, moving, stacking is amazing and we are grateful for your efforts.
In addition to the list published in the 3 March edition of Chief's Newsletter, the following sites are added:
St Johns Wood Scout Group – the Rover Scout room in addition to the previously reported flooding of the original timber and corrugated iron den.
Pamphlett-Tennyson Scout Group in addition to the previously reported Pamphlett den, Tennyson den upstairs was inundated.
Goodna – damage to access bridge.
Allawah – damage to septic system and probable loss of the lower camping area
Brassall – rear shed partially submerged
Solna Street – water ingress downstairs
Rocky Creek power lines down and trees uprooted in storm cell immediately following the flooding
Queensland Scout Centre ground floor has had all storage areas cleared and sorted into retain/clean or dump piles, carpet tiles lifted, high pressure water cleaned, gyprock removed, outside pressure cleaned over three days with fans in place now to dry the area.  The next step is to get electricity reconnected to the upstairs. Thanks to Deputy Chief Commissioner – Development Geoff Doo for managing this process and Deputy Chief Commissioner – Adults in Scouting Jean Clifford for her assistance to Geoff. Our thinking about the rebuild of QSC is to not slavishly replace like with like but to significantly improve the flood resilience of our operations at the site.
The Providore at Baden-Powell Park has had all camp cooking equipment that ended up in the flood waters washed and sorted, ropes, axes, saws, mallets etc washed, patrol boxes washed and stacking to dry, walls and floors pressure cleaned and awaiting drying. The internal B-P Park access roads are being filled and graded this week.
And while the flood clean-up was happening at the Providore, Gill Hall, Raewyn Adams and Bec Orchard were busily cleaning the flood affected equipment used in the Holiday Outdoor Experience program that was stored down in the Activity Room adjacent to the abseiling tower.
Last Saturday, key members from the Agoonoree Team gathered at the Agoonoree store and cleaned the flood affected equipment used for the Agoonoree event. A number of key equipment items have been damaged by the floods and have been disposed of.
I note the deferral or cancellation of events due this flood event – Urban Challenge and Butterfly that I am aware of thus far."