Scout Fest
Clear skies, warm sunshine and brisk evenings made perfect weather for SCOUT FEST 2023, which was held at Rowallan Park on Saturday 19 and Sunday 20 August. There were 203 members of the public registered on Saturday to take part in the event and 258 Scouting members.
Some leaders and youth members from Calliope and Tannum Sands enjoyed the weekend of activities along with the youth and leaders from Proserpine, Sarina, Mackay City Central and Banksia Scout Groups. There were also visiting leaders from Brisbane, Townsville and Yeppoon. Help from the specialist leaders to run the activities were much appreciated.
Scout Fest is held every two years and gives youth the opportunity to experience a variety of Adventurous Activities on the one weekend camp, in contrast to a Group camp where you may only experience one or two of these activities.
A Big Bravo to the District Adventurous Activities Team who specialize in abseiling, water activities, archery and low ropes course and bouldering. Without the expertise of these volunteers, these activities couldn't be run. Other activities on the weekend were mud run, popcorn making and damper twists, wood burning with magnifying glass using the sun, Bunnings craft, giant games, geocaching, rafting on the small dam, canoeing on the larger dam, mud run, mountain bike riding, rope bridge, crate stacking, and the merry go round. There was also a memorabilia display.
Congratulations to District Commissioner Katrina and her Scout Fest organising committee for a job well done, by providing such a wonderful event for the Scouting Youth and the public to experience.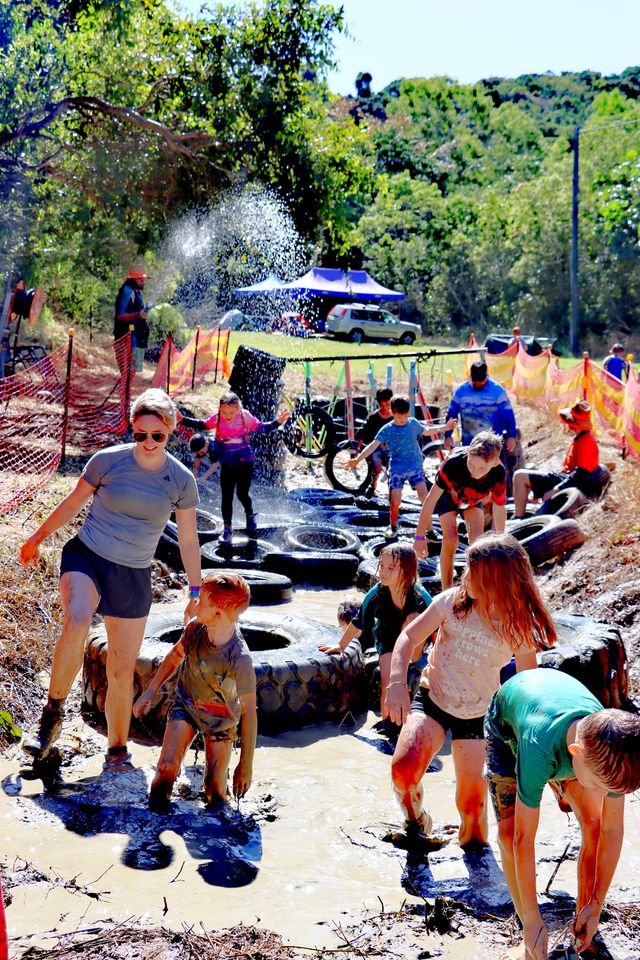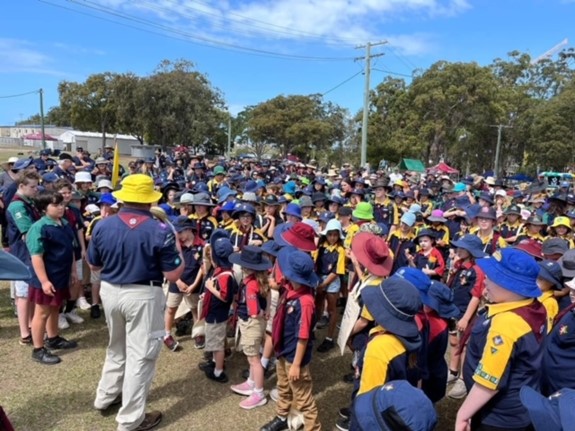 Skillorama
Thank you to all who joined us on Saturday 2 September 2023 to have a fun-filled day celebrating 50 years of Skillorama with Redcliffe District. A day where Scouts, Venturer Scouts and Rover Scouts from across SE QLD gather to design and build a heap of activities for the Joeys and Cubs to experience. It was the first since 2019 where the event had been put on hold due to Covid and severe weather stopped it last year. 
There were spinning swings, catapults, bicycles on a wire, slides, and so many other games and activities that are too many to list. They sure kept the smiles on the faces of those who had attended. 
Congratulations to Dayboro Scouts for taking home the prize for the best base, and to Burpengary Scouts as runners up. They put in so much thought, effort and time into their design. A big thankyou to all the groups who ran bases, you did an amazing job. It was great to see so many traditional skills of scouting being used and to see so many there. 
We look forward to the next one in 2024! 
Operation Nighthawk
Operation Nighthawk 2023 at Crows Nest was a huge success once again and this is due to the support Darling Downs Region Scouts receive from Defence, Queensland Ambulance, Queensland Police, Toowoomba Regional Council and local property owners and Rover Scouts 18-25 years and leaders from local and distant Scout Groups. The 850 Scouts aged 11-15 years and 450 Venturer Scouts aged 15-18 years came from approximately ninety-five Scout Groups from north to Bundaberg, west to Chinchilla south to Stanthorpe and Goondiwindi, east to Brisbane and the coast and everywhere in between. The Clifton Scouts were awarded the trophy for first place on the Scout Course and Indooroopilly Venturer Scouts took out the prize on the Venturer Scout Course. The community service provided to Scouts by our local Defence Unit is very much appreciated by everyone involved with Operation Nighthawk. It's an excellent opportunity for young people looking to choose a career to see a small part of what Defence can offer and I'm sure it gives the soldiers a sense of personal pride in being able use their skills to assist the young people of our community.
Thanks once again for the support from 7 Sig Regt.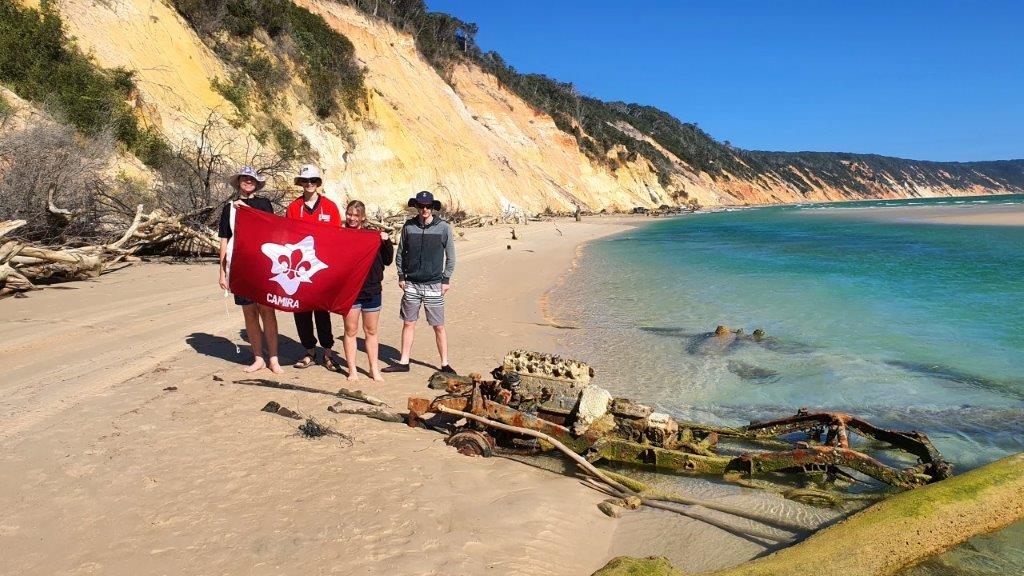 Camira Venturer Scouts at Cooloola Recreation Area
Over the weekend 11-13 August 4 Camira Venturers had an opportunity to explore the Cooloola Recreation Area.
The goal was to "Look Wide" and explore the natural beauty of this area.
There were 3 different bushwalks totalling 9km
Freshwater Lake
Poona Lake
Light House Track Double Island Point
Lots of wildlife found, including Whales (some breaching), Turtles, a large shark. Goannas, Sea Eagles and many other birds. Night walks along the beach looking at the stars. Learning how to find pippies, and watching how they dig into the sand. Seen fish swimming around their feet then tried catching them bareheaded.
Night driving along the beach. Commentary drive explaining what to do and what to look out for. Played in the sand and built a dam, just because. None wanted to come home. The photos speak for themselves. The best part for me is always hearing the sounds of excitement on entering the beach for those who have never experienced this beautiful part of Queensland.
Scouting at it's very best
Ultimate Sailing Program – Alba's Story
"Dear fellow Scouts,
You should most definitely go to the USP, (Ultimate Sailing Program), down at Brownsea because you learn and improve, make new friends and enjoy yourself. Also, you're Scouts and adventure is your middle name!
At the USP, you have the potential to earn all boating badges up to stage 5. During these 4 days, you learn the names for every part of a corsair (type of sailboat, though these names are also used for most other sailboats, too) and the rules/laws for boats when you're out on the water. You also learn how to launch, tack, gybe and come back to shore. In the evenings, you go through your record book (be sure to bring it!) to see what you can tick off from that day. This usually also includes the equipment and clothing you would take/wear during a day of sailing. And you'll also acquire some useful cooking skills!
Throughout the course of the sailing program, I am certain that you will make a few new friends from other groups. You can learn about other Scout Groups and meet interesting people that most likely have some great stories to tell! You'll probably hear about some things that are the same or different in their groups and you also might find out about something that you would like to do that you don't do already.
If you go to the USP, I am certain that you will have a bucket load of fun! Sailing is a great sport, because, when there's not too much wind, it is calm and relaxing. Though it's exhilarating to speed across the water with the wind chasing you! The food is delicious (cooked by Scouts) and there's also a great view of the planes landing at Brisbane Airport. In the evenings after dinner, there are multiple fun boardgames that you can play.
When I went to the USP in January, I had lots of fun. We went out in a bigger boat called the AJ and sailing it was really smooth. On the second-last day, we sailed for a longer trip and brought our lunch with us. That day was really fun. On the beach we landed on, there were soldier crabs and jellyfish.  There are warm showers and lots of time for doing what you like. One evening, you go for a night canoe with little light poles attached to the canoe. It's a great experience!  You don't go to bed too late or too early and the wake-up time is not before the sun rises! At the end, you're exhausted but all for a good cause!
So, all in all, I think that it would be a waste of a fantastic opportunity if you didn't go to the USP. It holds a terrific chance to learn all about sailing, make wonderful new friends and have so much fun. Plus, you're Scouts so you can't say no to some fun, adventure and mastering new skills. I look forward to seeing you all there!"       
Alba S – Noosa Sea Scouts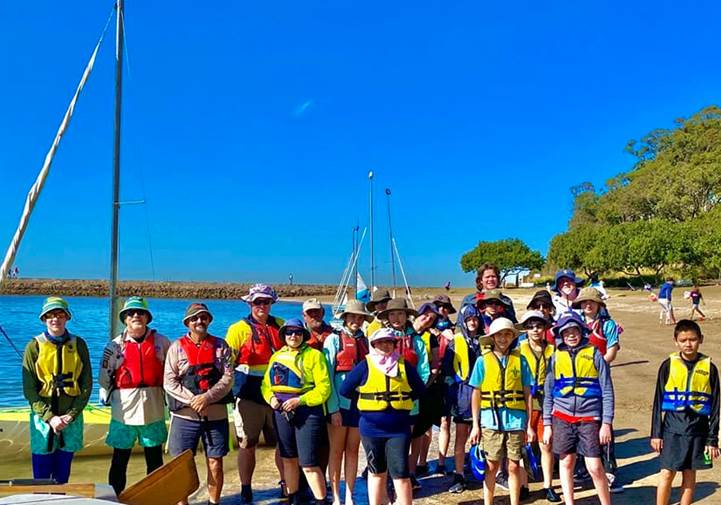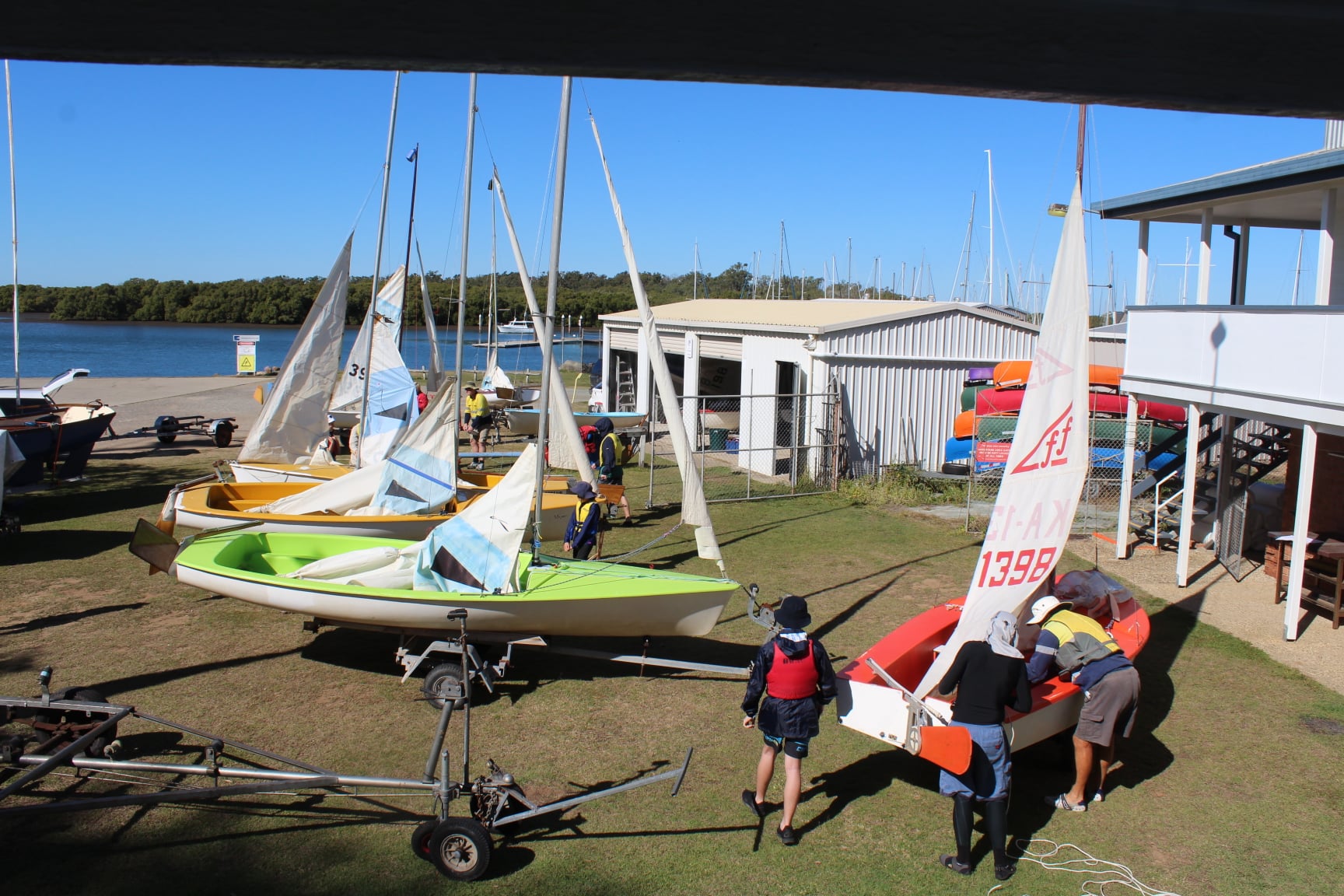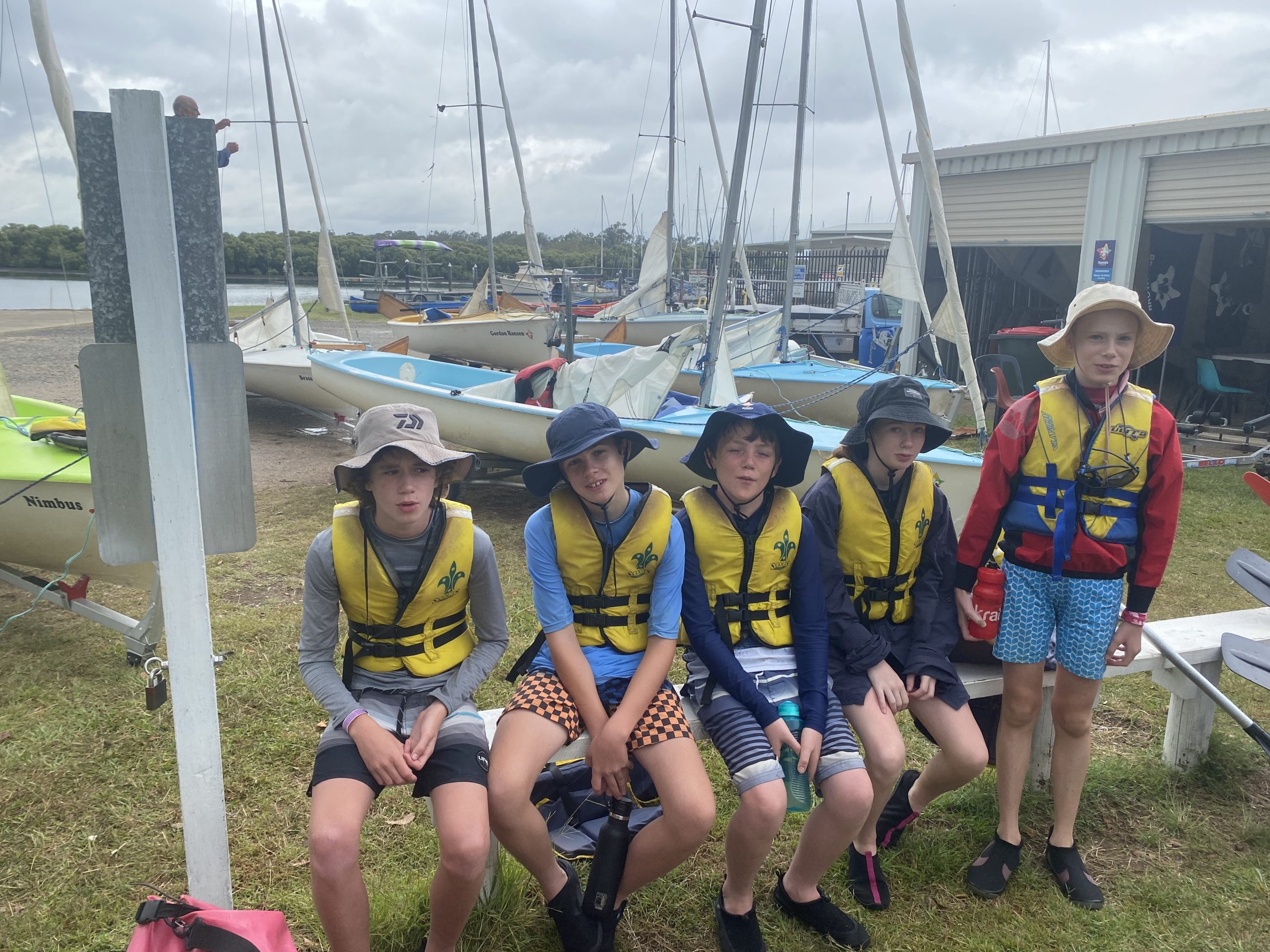 Joey Scout Jaunt – Interviews with Leaders
Leaders share why you should get involved in events like Joey Scout Jaunt next year!
Click on the logo on the right.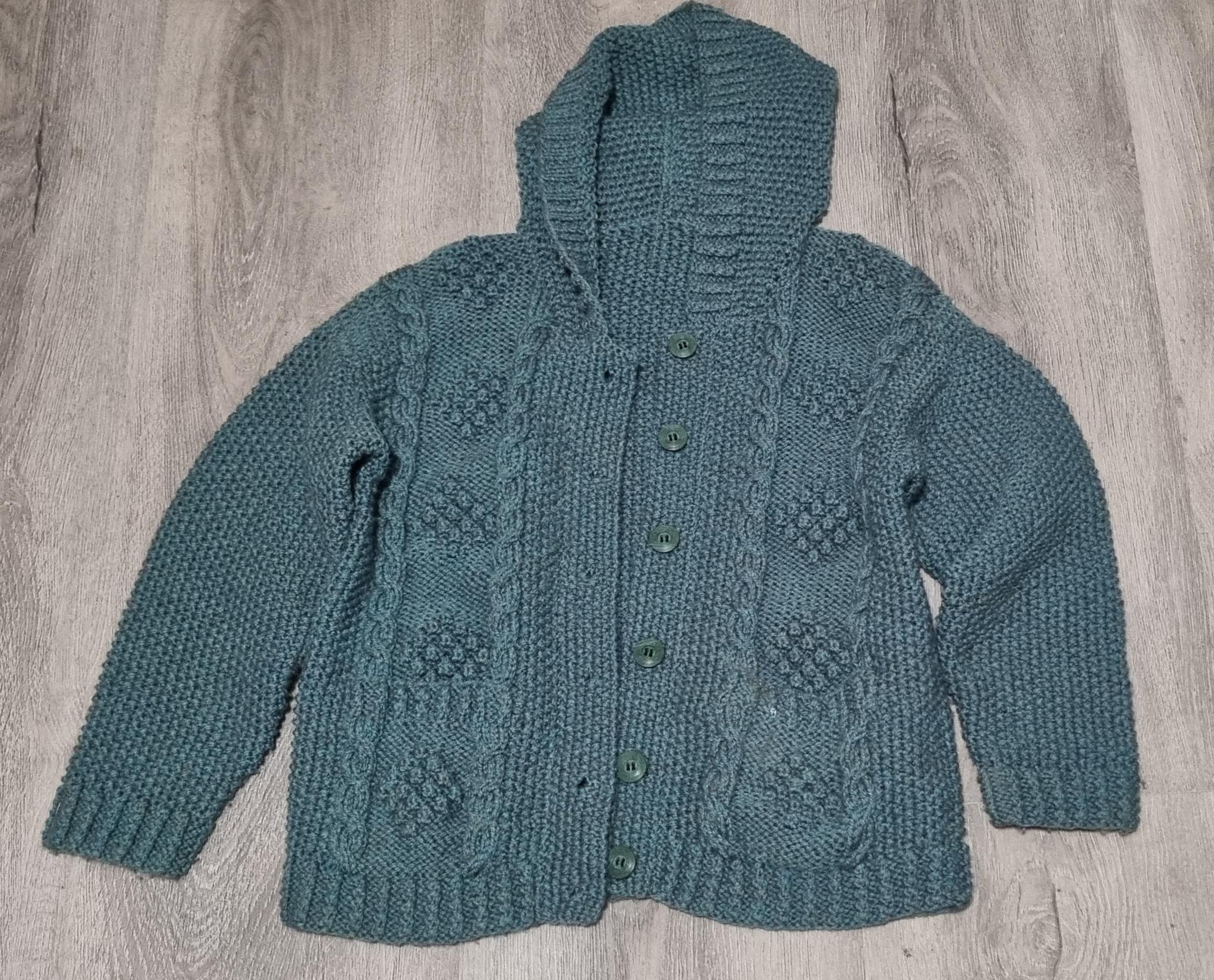 Joey Scout Jaunt- Lost property
Lost property from Joey Scout Jaunt at BP Park.
This beautiful jumper was handed in at Joey Scout Jaunt – if you recognize it, please contact Emmi Thomas at joeys@scoutsqld.com.au