Queensland Politicians join 50 Million Scouts
This August, Scouts Queensland scarfed up State Members of Parliament and most Mayors across Queensland to commemorate World Scout Day on August 1.
These community representatives were presented with a Queensland Maroon Scarf carrying a Supporter of Scouting Badge at its point. The Scarf is in recognition of the support being provided by members of Local and State Governments to Scouting in Queensland
World Scout Day in 2018 represents 110 years since Scouting started in Queensland. The movement continues to provide young people with an outdoor orientated organisation where leadership and creativity are encouraged.
See below some of our supporters – thank you to all involved with this project.

The Gap Scout Group Scarfing Up Jonty Bush Member for Cooper
Hunter (Scout), Dakota (Joey Scout), Tania McLaughlin (Group Leader) and Kate Rimon District Commissioner (John Oxley)
presented a supporters scarf to Annastacia Palaszczuk Premier of Queensland (Member for Inala)
Lily, Max, Kane, Sammi and Kate from Nundah-Northgate Scout Group, Scarfed Up the Lord Mayor Graham Quirk at Brisbane City Hall, with a little help from Deputy Chief Commissioner Geoff Doo and Scout Leader, Joanne Neeland.
Back: Hailey Whittle, District Commissioner – Karen Nawratzki, Scout – Shin Jacobs, Region Commissioner – Alex Mair
Front: Scout – Harry Jacobs, Cub Scout – Tyson McBride, Mayor Ms Tanya Milligan (Lockyer Valley Regional Council)
William Milful (Scout Leader), Stephen Woodruffe (Group Leader), Jennifer Howard, MP (Member for Ipswich), Alex Mair (Regional Commissioner Moreton Region), Amy Buhse (Scout Leader), Jason Janke (Scout Leader).
Jordan Frohloff, Dylan Frohloff, Acting Region Commissioner (Moreton) Alex Mair, Riley Frohloff and Ann-Marie Frohloff (Lowood Scouts) scarfed up Mayor Graeme Lehmann.
Police Commissioner Ian Stewart scarfed up by Alex (Indooroopilly Scout Group) and Robert Irwin – Scouts Queensland 2017 Ambassador
Launching the latest Scout Group, Buddha's Light Scout Group and scarfing up the Hon Mick de Brenni and the Abbess Venerable Chueh Shan, FGS Chung Tian Temple with Deputy Chief Commissioner Geoff Doo and the team.
Rob Cullen and his team scarfed up Mayor Mark Jamieson, Cr John Connolly and Cr Greg Rogerson in a council chambers meeting in front of all the other Sunshine coast councillors.
Joey Scout, Tyler Thomson, scarfed up the Mayor, Venturer Scout, Nathan Hickey,  scarfed up Cr Connolly and DC Ken Howes scarfed up Cr Rogerson. Rob addressed the meeting taking on our 2022 plan and what youth can achieve out of Scouting.
Scarfing up of Linus Power, MP for Logan
Some of Kepnock Cub Scouts along with Regional Commissioner Finch and Kepnock LIC Kwasin scarfed up Stephen Bennett, Member for Burnett. This took place near Mr Bennett's Bargara electoral office and overlooked the Sandy Straits Marine Park. Cooper Mylrea was given the pleasure of presenting the scarf and placing it around Mr Bennett's neck.
Presentation of scarves to Mayor of the Fraser Coast – George Seymour, and Member for Hervey Bay – Ted Sorrensen. The presentation was held at the Hervey Bay Sea Scouts Den  on the 8 August. This was a delightful evening to see so many Scouts in attendance. George Seymour spoke of his time as a scout in Mexico to the Group.
Member for Maryborough –  Bruce Saunders was presented with his scarf at the Maryborough Fire Station on the 3 August with Scouts from Moonaboola Sea Scouts.
Fiona Simpson wears her scarf with pride
Mayor Gavin Baskett of Winton
Dr Christian Rowen MP – Member for Moggill
Members of the Nashville Scout Group, along with District Commissioner Carol Harris, presented civic leaders with a special Scout scarf in recognition of the contribution made to the youth of Gympie region. State member Tony Perrett, were presented with scarves.
The Darling Downs team at work…
Scouts welcome a familiar face to ranks – article in the Dalby Herald
https://www.dalbyherald.com.au/news/scouts-welcome-a-familiar-face-to-ranks/3486351/
Trevor Watts MP (Toowoomba North) happily posted about his scarfing up at Nighthawk on his Facebook page  
Back row:   Pat Weir, David Janetzki, Paul Antonio, Alexa Ready, Geoff McDonald
Front row: Tracey Ferguson, Carol Taylor, Victoria Sherrie, Aimee Sherrie, Barry Keleher
The Hon Mark Bailey (Minister for Transport and Main Roads) is scarfed up by Georgina, Venturer Scout from Clifton Hill Scout Group.
Jess Pugh, MP (Mt Ommaney) has been a huge supporter of Scouting in the area in her short term in office and the two Groups in the electorate both showed up with members for the presentation. She will also be wearing her scarf to the local Centenary suburbs Chamber of Commerce.
Tony Langler (Regional Development Support Officer) and Rachel Devine District Cub Scout Leader (Redcliffe) 'Scarfed Up' Ken, Steve and Nicky from 96Five Family Radio at the Hercules Road State School Outside Broadcast.
Click here to Tony's interview on 96Five Family Radio.
Mark Furner MP Member for Ferny Grove with Owen Richmond – District Commissioner (Sir Leslie Wilson)
Jarrod Bleijie MP received his "Supporter of Scouting" Scarf from Suncoast Region Commissioner Rob 'Dingo' Cullen and Brent Mickelberg MP – Member for Buderim posted this video on his Facebook page
Andrew Powell MP – Member for Glass House showed support via Instagram …
Kevin Sinden Group Leader (Morningside) proudly presented Di Farmer MP (Bulimba) with a supporter scarf to say thank you for all she does for Scouts in the community.
Commissioner Cheryl Vardon (Queensland Family and Child Commission) with Scouts Queensland's Chief Commissioner Daryl Scott and the Kenmore Scouts
State MP for Aspley, Bart Mellish, with Bramble Bay District.
Federal Member Cathy O'Toole with youth member Chloe Reid
Mark McArdle MLA for Caloundra and Rob Cullen RC
Councillor for MacGregor Ward, Stephen Huang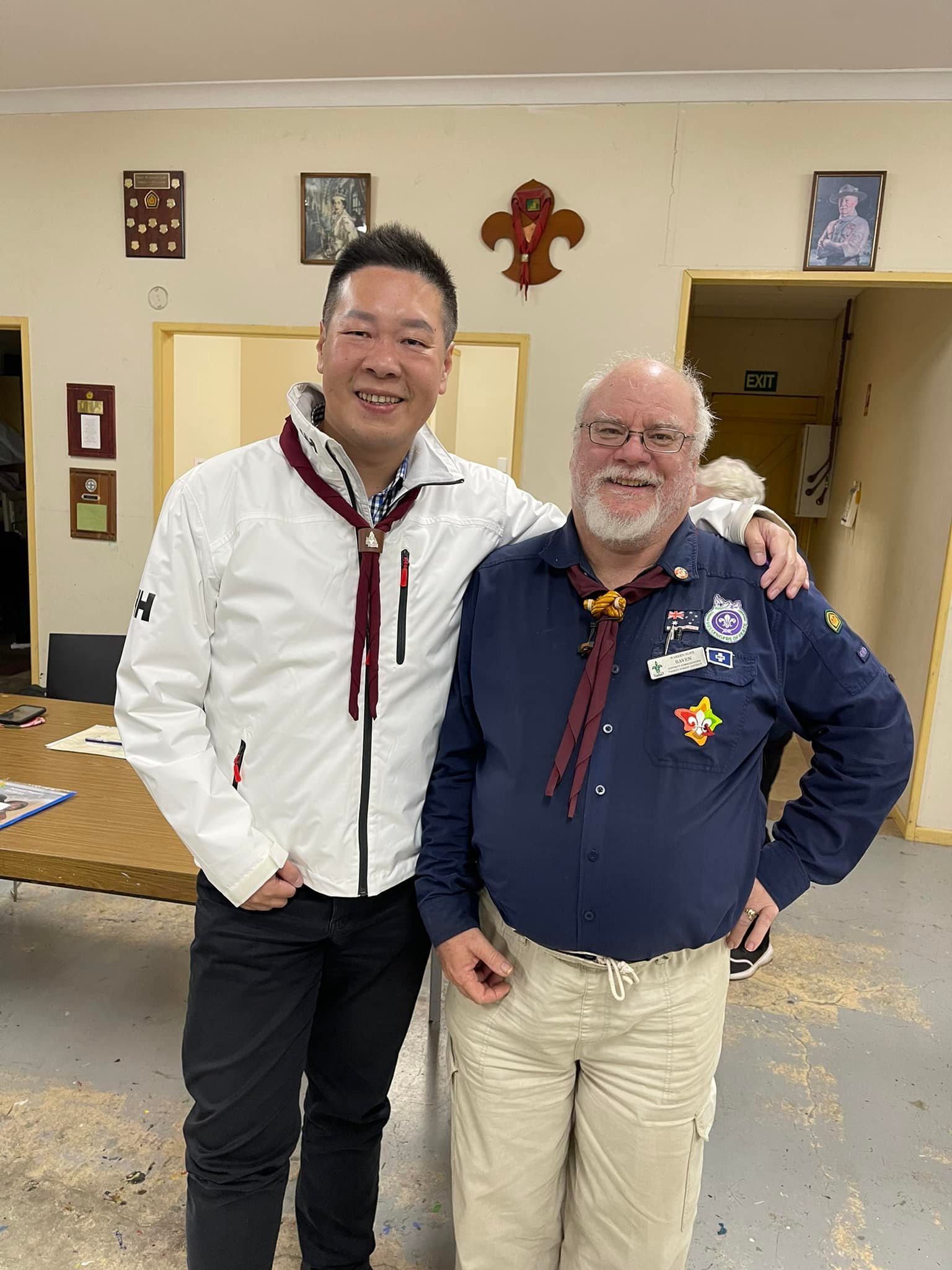 Member for Nicklin, Rob Skelton